HALIFAX — The union representing striking newsroom employees at Canada's largest independent daily newspaper says the company has suspended 18 layoff notices that were sent out hours after the workers walked off the job. Ingrid Bulmer, president of the Halifax Typographical Union, says a lawyer for the Halifax Chronicle Herald sent them a text message saying layoff notices that were delivered Saturday morning have been suspended.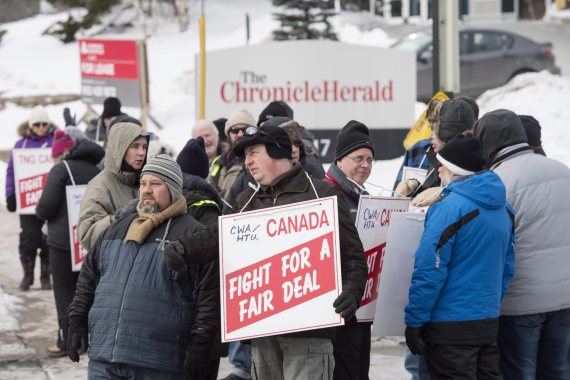 Halifax Chronicle Herald newsroom union members picket outside the newspaper's office after walking off the job in Halifax on Jan. 23, 2016. (CP)
Bulmer says the union, which represents 61 editorial staff, has requested written confirmation from the company. Nancy Cook, the Herald's vice-president of administration, did not immediately return a request for comment Sunday. The work stoppage began at 12:01 a.m. Saturday after talks broke down earlier last week. The Herald has said it wants to reduce wages, lengthen working hours, alter future pension benefits and lay off up to 18 workers to cope with economic challenges that have beset North America's newspaper industry.  
Also on HuffPost
Trudeau Newspaper Front Pages