Getty
VANCOUVER — Two alleged gang members have been arrested and charged with conspiring to kill the leaders of a notorious rival crime group nearly a decade after Metro Vancouver was terrorized by a brutal gang war.
RCMP announced on Monday the arrests of 32-year-old Troy Tran of Vancouver and a 31-year-old man whose identity is not being released "to preserve the integrity of a future court proceeding.''
The men are accused of taking part in a plot to murder the three leaders of the Red Scorpions gang, brothers Jarrod, Jonathan and Jamie Bacon, and their associates.
The Mounties said they believe Tran and his co-accused are members of the rival United Nations gang, which was embroiled in a violent turf war against the Scorpions between 2007 and 2009.
The pair also face first-degree murder charges in relation to the 2008 killing of Jonathan Barber and the shooting death of Kevin LeClair the following year.
"Although the current look of the UN from the past no longer exists in the manner in which we knew them, they're still there and lurking behind the scenes.''
Barber, who worked as a stereo installer, was to work on Jamie Bacon's black Porsche but died in a hail of gunfire in Burnaby, B.C., while driving the vehicle.
Barber's girlfriend, who was following behind him, was also injured in the gunfire.
LeClair was shot at a shopping centre in Langley, B.C. Police said he was a high-ranking member of the Scorpions.
UN gang member Daniel Russell pleaded guilty to manslaughter for his part in Barber's death and was sentenced to 12 years in prison in 2013.
Russell, along with five other UN members, also admitted to a murder conspiracy against the Bacon brothers that same year.
"There's a culture in the gang lifestyle where people are reluctant to come forward and speak with police,'' RCMP Supt. Dwayne McDonald said on Monday. McDonald heads up the province's Integrated Homicide Investigation Team.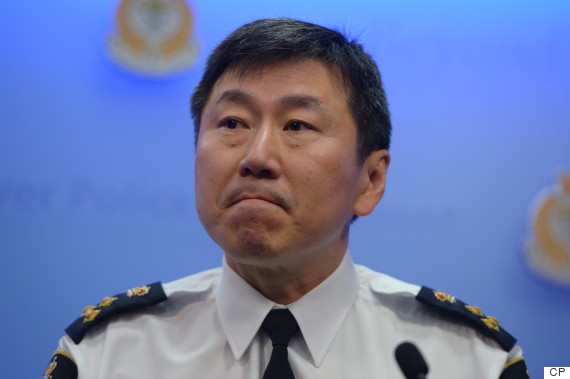 Then-Vancouver police chief Jim Chu said the gang war was "brutal" and needed to be acknowledged. (Photo: CP)
"Our simple message is that that gang lifestyle really ends in only one of two ways: jail or death. We the police want to offer an alternative to that. We can keep our witnesses safe.''
Kevin Hackett, Chief Superintendent of B.C.'s combined forces special forces unit, described the "all-out gang war'' in the late 2000s, which involved "brazen public executions, shootings and retaliations.''
In March 2009, then-police chief Jim Chu admitted after numerous shootings that Metro Vancouver was in the midst of a turf war between rival gangs.
"As police, we've always been told by media experts to never say or admit that there is a gang war,'' said Chu. "Well, let's get serious. There is a gang war and it's brutal.''
Efforts by law enforcement in the Lower Mainland has forced gangs to regroup and adapt, said Hackett.
"Although the current look of the UN from the past no longer exists in the manner in which we knew them, they're still there and lurking behind the scenes.''
Another alleged leader of the UN gang is still at large. McDonald said Conor D'Monte is implicated in the murder conspiracy, as well as the killing of Kevin LeClair.
— Follow @gwomand on Twitter.
Also On HuffPost:
Canadian Gangsters Arrested In Philippines