OTTAWA — A Liberal minister says the new government will take steps to address to growing gap between the rich and the poor, but is warning that not all campaign commitments will make it into the budget.
The admission from Social Development Minister Jean-Yves Duclos comes as the NDP intends to make income inequality its primary focus as Parliament resumes Monday.
Duclos, a well-regarded economist from l'Université Laval, told The Huffington Post Canada the Grits remain focused on income inequality and on creating growth that includes everyone — women, immigrants, First Nations, as well as all regions of the country.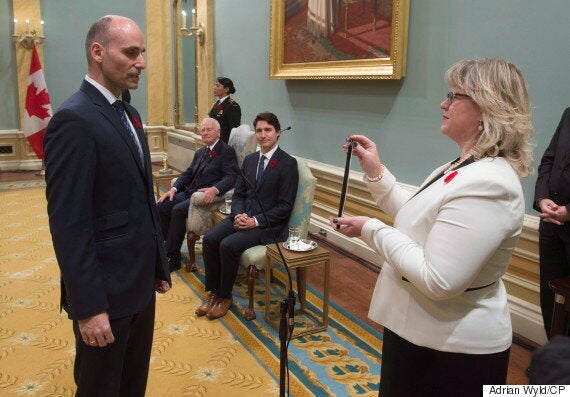 Jean-Yves Duclos is sworn in as minister of families, children and social development. (Photo: Adrian Wyld/CP)
Prime Minister Justin Trudeau may not have spoken as passionately about income inequality on the campaign trail as he did before the election, but Duclos said it was "implicit" when the party talked about "the middle class and all those hoping and working to join it."
"It's not a coincidence that we focused on the top one per cent," the minister added. "It's not that we don't like the top one per cent — most of those belonging to the top one per cent of our society work very hard and earn those incomes in the most legitimate way with investment in our society — but because we felt the middle class needed more support."
The Liberals' 1.5 per cent tax cut for taxable incomes of $45,282 to $90,563 amounts to a maximum of $679 a year.
"It could be bigger," Duclos acknowledged. "But, I think, it's still better than nothing."
"It's not a coincidence that we focused on the top one per cent."
In February, Duclos is scheduled to meet with his provincial counterparts to start hashing out an agreement on early learning and childcare funding, which, he said, will be "most beneficial to lower income families."
The first meeting will be about setting objectives for a program, but an eventual deal will likely allow for differences between regions based on local needs.
The Liberals' budget, likely to come at the end of March, will include several measures from the platform that tackle income inequality.
A new child benefit — to be implemented in July — will be particularly beneficial to lower income families and will lift hundreds of thousands of children out of poverty, Duclos said.
The budget will also include investment in social housing, a higher Guaranteed Income Supplement for vulnerable seniors, several measures to help indigenous people, as well as spur job creation through infrastructure spending.
But Duclos cautioned that not everything the Liberals promised during the election will be included in the budget.
"There will be things that will have to wait."
NDP MP signals shift on taxes, deficit spending
NDP MP Niki Ashton said she is concerned that the Liberals are already moving away from many of their election promises relating to income inequality and that they may leave more spending promises on the chopping block, blaming dire economic times.
"In the '90s, we saw inequality grow the fastest. It was under Liberal governments — and it had everything to do with decisions that they made at that time," she told HuffPost, referring to cuts in transfer payments to the provinces.
She pointed to the Liberals' failure to strengthen the Canada Pension Plan, the failure to roll back the age of qualification for Old Age Security (OAS) in the Throne Speech, as well as the Grits' refusal to commit to reinstating Canada Post home delivery for those Canadians who had already lost it — a way of saving good paying jobs.
Ashton said she was especially concerned that the Liberals might weaken their commitment to First Nations education.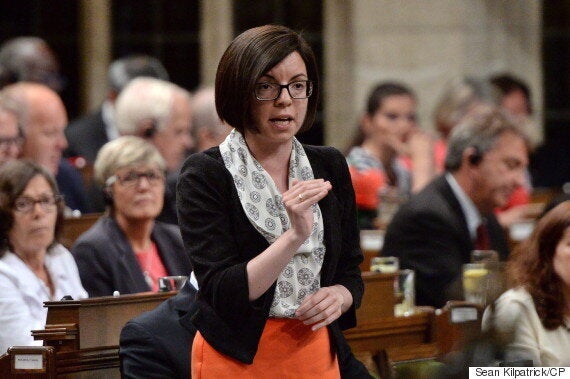 NDP MP Niki Ashton speaks in the House of Commons. (Photo: Sean Kilpatrick/CP)
"This kind of an investment would go a long way in closing the inequality gap faced by the poorest communities in Canada."
"Income inequality is one of the most glaring injustices in our society," he said in a speech.
Canadians who are working hard should not see their incomes stagnate or drop as the wealthiest individuals get richer and corporations post larger profits, the NDP leader said.
"Income inequality is one of the most glaring injustices in our society." - NDP Leader Thomas Mulcair
Some people who call themselves "progressives" believe "it's good enough to espouse equality of opportunity," Mulcair said, "but as social democrats, we believe … government can and, we feel, must play a direct role in eliminating inequality."
Mulcair, who fought the election opposing higher personal income taxes on the rich and supporting balanced budgets, told his 43 MPs he would not abandon his party's social democratic vision for Canada, "not lose sight of who we are and who we fight for."
Those fighting words were what his most vocal critic — Ontario NDP MPP Cheri DiNovo, who has called on him to resign — had been hoping to hear.
"We need to be talking about income inequality, we need to be talking about things that Bernie [Sanders, a populist U.S. senator from Vermont vying for the Democratic presidential nomination] is talking about, like free-post-secondary education," she told HuffPost last week.
For now, the NDP doesn't intend to call for free post-secondary education — something that was in the Green Party's platform — or tax increases for the wealthy, Ashton said.
The party will focus on its election priorities, she said, but "given the troubling trend of the growing inequality, it will be incumbent on us to continue to look at how we can push the agenda, how we can tackle inequality."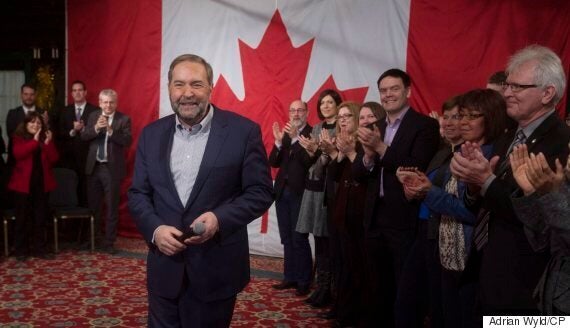 NDP Leader Thomas Mulcair is applauded after a speech to his caucus in Montebello, Que. (Photo: Adrian Wyld/CP)
"We certainly believe in making the changes necessary so that those that have the most money are giving back, giving their fair share, and that the revenues that we have as a government are being used to support those most in need and being used to close that growing inequality gap."
Ashton suggested the caucus might consider whether it will support deficit spending "given the economic situation we are in."
During the election, the NDP pledged to run balanced budgets.
"We've always supported the need to be fiscally responsible," Ashton said, "but obviously in changing times you have to make the right decisions."
When MPs return to work, the NDP will be calling for changes to employment insurance — something the Liberals have already telegraphed — to help those who have lost their jobs avoid falling into poverty or chronic joblessness.
The party also plans to focus its attention on the Trans-Pacific Partnership agreement (TPP) — a free-trade deal the Liberals are poised to sign that may cost several thousand Canadians their jobs.
The World Economic Forum, which Prime Minister Justin Trudeau attended in Davos, Switzerland, suggested in its jobs report that governments should redraft educational curricula and provide incentives to promote lifelong learning to help its lower-skilled and middle class workers adjust to rapid change.
Duclos told HuffPost the Liberals remain committed to free trade and will judge the merits of each deal separately. "We know that free trade, when it is conducted in a proper manner is always beneficial."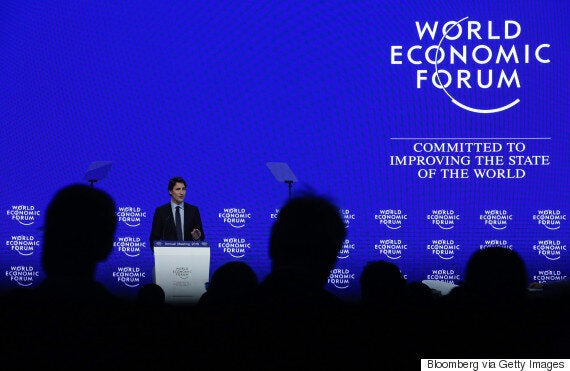 Justin Trudeau, Canada's prime minister speaks during a special session at the World Economic Forum in Davos, Switzerland on Jan. 20, 2016. (Photo: Matthew Lloyd/Bloomberg via Getty Images)
Globalization, technological change, market competition, and, in some cases, greater concentration of power as causes, however, had all exacerbated income inequality and the government had a role to play in redressing it, he said.
"We want to have greater inclusion because we want to have greater equality of opportunities."
From a moral standpoint, Duclos said, income inequality is worth addressing because about 80 per cent of what people experience in terms of their living standards is affected by circumstances out of their control.
"It's due to the country in which you are born, the family in which you are raised, the luck that you have in terms of your skills, your health, in finding a good job after you graduate, it depends on who you meet and so on."
But societies with greater income equality also see greater political and social inclusion, the minister said.
"It's been shown that greater equality increases economic growth by making the people more likely to invest in their future and in the future of their society."
Meanwhile last Monday, Conservative interim leader Rona Ambrose told a Toronto business luncheon audience that the Tories believe "that government should help anyone in genuine need, and hinder none who find success."
"Government should pave a pathway to prosperity, and then get out of the way," she said.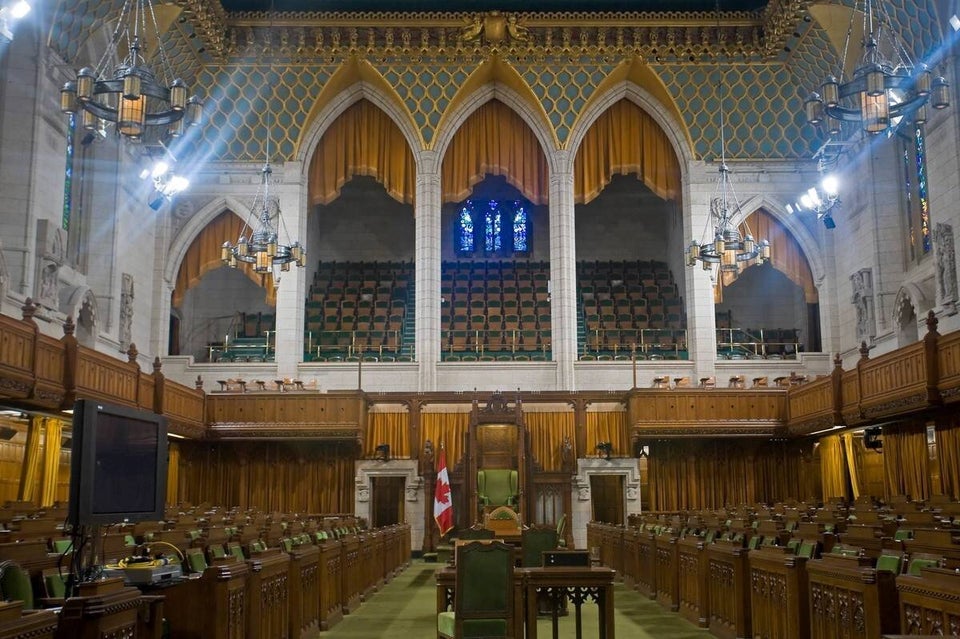 How Much Are Federal Politicians Making? (2016)