A man who was shot and killed by police on Sunday after firing shots "indiscriminately" into a Calgary neighbourhood relied on a wheelchair, struggled with mental illness and recently lost his service dog.
David McQueen, 53, was on the phone with his caregiver to say goodbye just moments before the Huntington Hills shooting, according to Metro News.
McQueen's Facebook posts show a man heartbroken over losing his service dog, Bear, to cancer. Other updates focused on accomplishments achieved before an injury confined him to a wheelchair for the rest of his life.
Anger toward Alberta's health-care system
Alberta Liberal Leader David Swann said McQueen frequently reached out to his office and other constituency offices in Calgary, in a statement released Monday.
"He was suffering from an obvious, and serious, mental illness,' Swann wrote. "He was always polite, though he was certainly agitated and paranoid of all government.
"David was also angry. Angry with the injury which all but paralyzed him, angry with a system he felt failed him, and angry with those who represented that system."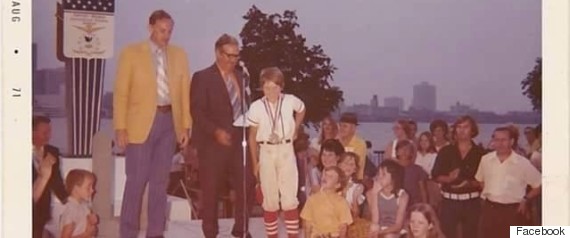 David McQueen, pictured winning a baseball medal during his childhood in Windsor, Ont. (Photo: Facebook)
On his Facebook page, the Windsor, Ont.-born man shares happy memories of his childhood — catching tadpoles, Christmas with his grandparents, a newspaper clipping of the time he threw a no-hitter in a Little League tournament. In a kindergarten report card, a teacher describes a young McQueen as "bright" but "noisy and pugnacious."
In one post, McQueen proudly shares a letter he received from Bobby Orr in 1969. "From my Hero as a 7yr & a half year old kid," McQueen writes.
* * *
In 1994, McQueen broke his neck diving into Calgary's shallow Sikome Lake, a popular, man-made summer destination he was visiting with his sons.
Then in 2001, a judge ruled McQueen was at fault for his injuries after he sued the province of Alberta for $4 million, according to the Calgary Sun.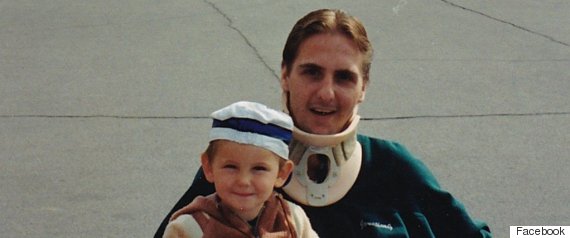 McQueen and one of his sons, shortly after his accident. (Photo: Facebook)
For years, McQueen tried to keep busy by operating a flower cart he pulled behind his wheelchair, but wrote on Facebook that he eventually gave up the venture as he was no longer able to afford a business with his pension of $18,000 per year.
Many of McQueen's posts highlight loneliness, and anger, railing against specific local politicians he felt let him down. In another incident, he accused Calgary police of threatening to shoot his dog.
Neighbours in Huntington Hills told the Calgary Herald that McQueen, in recent years, became reclusive. One said his wife was frightened of McQueen. Another burst into tears at the news of his death, describing him as "a sweet man."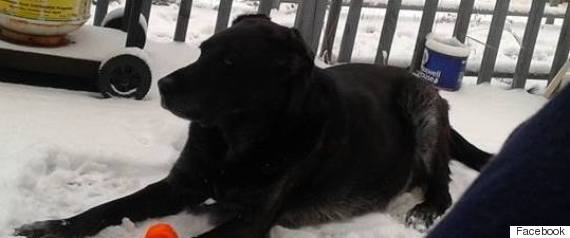 McQueen's service dog, Bear. (Photo: Facebook)
McQueen's happiest posts concern his black labrador, Bear, who he describes as "my only trusted BFF" since 2008. Bear died from abdominal cancer two weeks before the shooting.
"After he lost the dog, he was just lonely because there was no one to talk to," said Isabella Templeton, McQueen's long-time caregiver in an interview with CBC News.
The shooting
On Sunday, police were called to McQueen's house just after 4 p.m.
"The service received a 911 call that a Calgary transit bus driver reported a shot fired into the bus that narrowly missed the driver,'' police Chief Roger Chaffin said at a Monday news conference.
Bullets also hit nearby residences. Police said in a news release that the suspect was "indiscriminately" firing shots into the neighbourhood.
Dramatic video.With threat over, here's what it sounded like earlier in Huntington Hills #yyc courtesy: @CTVCalgary pic.twitter.com/H6BwunuBHe

— Amanda Singroy (@CTVAmanda) January 25, 2016
"Several attempts were made to resolve the situation peacefully; however, the suspect exited the residence and the situation escalated," said Chaffin.
According to Alberta's Serious Incident Response Team, a man in a wheelchair left the house armed with a handgun and confronted police. Police shot at McQueen and he was later pronounced dead at the scene.
Police have confirmed McQueen was known to them, and previous visits to his house had been non-criminal in nature.
"There has to be real change, and soon."
The Alberta Liberal leader says McQueen is a sad example of the need for change in Alberta's mental health system.
Swann said on Monday as the co-chair of Alberta's Mental Health Review, he has heard a number of stories just like McQueen's.
"Very, very few of these individuals will ever wind up in a situation where they hurt others, but Alberta has now seen several incidents involving people suffering from mental health problems. There has to be real change, and soon," he said in a statement.
"My thoughts and condolences go out to David McQueen's family and friends, and to those police officers involved in the tragedy.
"My thoughts are also with those, like my staff, who interacted with Mr. McQueen and are left, today, feeling they could have done more."
Swann said the government's review of the province's mental health system is currently being handled by Health Minister Sarah Hoffman.
The final report, which is due to be released to the public in the coming weeks, is set to have suggestions for dealing with Alberta's struggling mental health system and increased suicide rate.
Like Us On Facebook

Follow Us On Twitter

Also on HuffPost:
Facts About Mental Health in Canada