A mom in Washington state is warning parents about a viral stunt that could have killed her son.
Skylar Fish was seriously hurt after he fell while attempting the duct tape challenge. In the stunt, someone is tightly wrapped with the tape and has to try to escape, according to Q13Fox.
The teen from Renton, Wash. lost his balance and hit his head on a window frame, crushing his eye socket and cheekbone and causing a brain bleed.
"I'm just, actually, really lucky to be alive," the 14-year-old told Kiro TV from hospital after the Jan. 16 accident.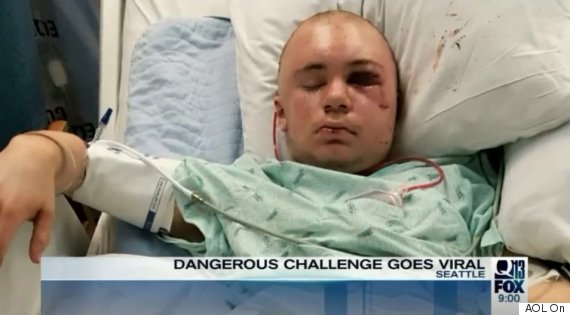 Skylar Fish in hospital after his fall earlier this month.
The impact pinched nerves in his left eye, said his mom, Sarah Fish. He doesn't know if he'll get his vision back.
She started a GoFundMe campaign to help cover some of his medical expenses. She addressed negative commenters in an update, saying that Skylar hopes his big mistake can teach others.
"He's still a child and knows what he did was stupid and wrong," she said.
"We don't need to hear it from anyone. He's heard it enough."
You can learn more about his story in the video above.
Also on HuffPost
Photo gallery
The Most Dangerous Internet Crazes
See Gallery