Immigration Minister John McCallum irked Conservatives in question period Wednesday after he said a "vast majority" of Syrian refugees are "super happy" to resettle in Canada.
Michelle Rempel, opposition critic for immigration, took to Twitter to criticize McCallum's response to Tory MP Bob Saroya's question about the government's failure to provide long-term living solutions to some refugees.
Rempel tweeted a link to a CityNews report from this week on residents of a Toronto hotel who were given eviction notices to make space for the newcomers.
On a Q re this story, https://t.co/2cdBpqNMZv, @JohnMcCallumLPC says refugees are "super happy" and it's "perfectly normal"

— Michelle Rempel, MP (@MichelleRempel) January 27, 2016
Syrian refugee? Stuck in a cramped hotel for weeks? @JohnMcCallumLPC thinks you're #superhappy. #qp

— Michelle Rempel, MP (@MichelleRempel) January 27, 2016
Getting a notice to move out of your accommodation? Check out @JohnMcCallumLPC's "perfectly normal" response in QP today.

— Michelle Rempel, MP (@MichelleRempel) January 27, 2016
"Refugees are people, not numbers on a scorecard," Saroya said, borrowing words from a National Post headline published earlier in the day.
McCallum responded by saying a "vast majority" of Syrian refugees who have arrived are "super happy to be in this country." But the longtime Liberal also acknowledged amid the intake of thousands of new Canadians, the process is prone to hiccups.
"Canadians can be reassured that this operation is a great success."
"There are some issues in hotels, which we are dealing with," McCallum said. "But it is perfectly normal for refugees to spend some weeks in hotels before going on to their permanent accommodations."
Saroya pressed on to suggest the federal government is prioritizing refugee cases above others, subjecting some Syrians to "temporary, cramped housing for weeks"
"Yes, they are spending some time in hotels — that is normal for the process. And it is also the case that refugees applications from other countries are proceeding as planned," said McCallum.
"So Canadians can be reassured that this operation is a great success and we will soon have 25,000 new Canadians on our soil."
Hotel residents evicted
An unnamed resident of the Toronto hotel told CityNews Monday the news of her eviction hit her "really hard" and that she and others were given "a whole bunch of reasons but the bottom line was they needed the space."
Toronto Plaza Hotel assistant general manager Ahmed Ibrahim defended the decision to the Toronto Sun, saying the three-month deal is good for business.
"We lay off so many people in the winter. Now, we've hired more people," Ibrahim said. "This has never happened before in the winter time."
According to a federal website, nearly 20,000 refugees have either arrived in Canada or have been approved for resettlement. The Liberals have pledged to resettle another 5,000 before the end of February.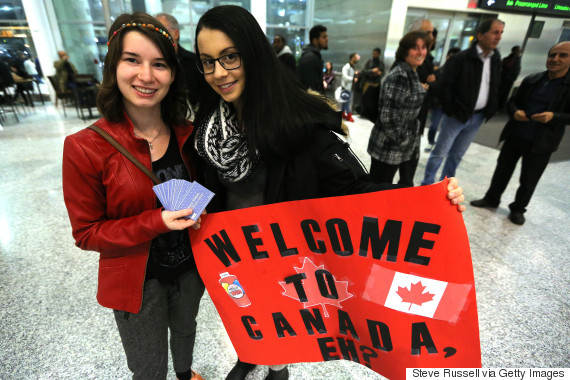 Christine Ross and Joja Smiljanic-Jazic greet refugees as they arrive at Pearson International Airport in Mississauga on Dec. 10, 2015. (Photo: Steve Russell/Toronto Star via Getty Images)
Details of the country's refugee policy, under the direction of the former Conservative government, were recently revealed in newly-released documents showing how some refugee files were cherry-picked above others.
Next week, Canada's policy regarding its intake of Syrian refugees will be the subject of a U.S. Senate congressional committee, focused on possible implications on homeland security.
Canada's ambassador to the U.S., Gary Doer, declined an invitation to testify, citing preference to not participate in partisan political debate in the Senate.
Also on HuffPost:
Great Things Canadians Have Done So Far For Syrian Refugees