Canada Mortgage and Housing Corporation says evidence of overbuilding has grown in real estate markets in Calgary, Saskatoon, Regina and Ottawa.
The housing agency says higher vacancy rates and an increase in the inventory of new, unsold units are responsible for the rise in overbuilding.
CMHC defines overbuilding as an indication that supply in the housing market significantly outpaces demand.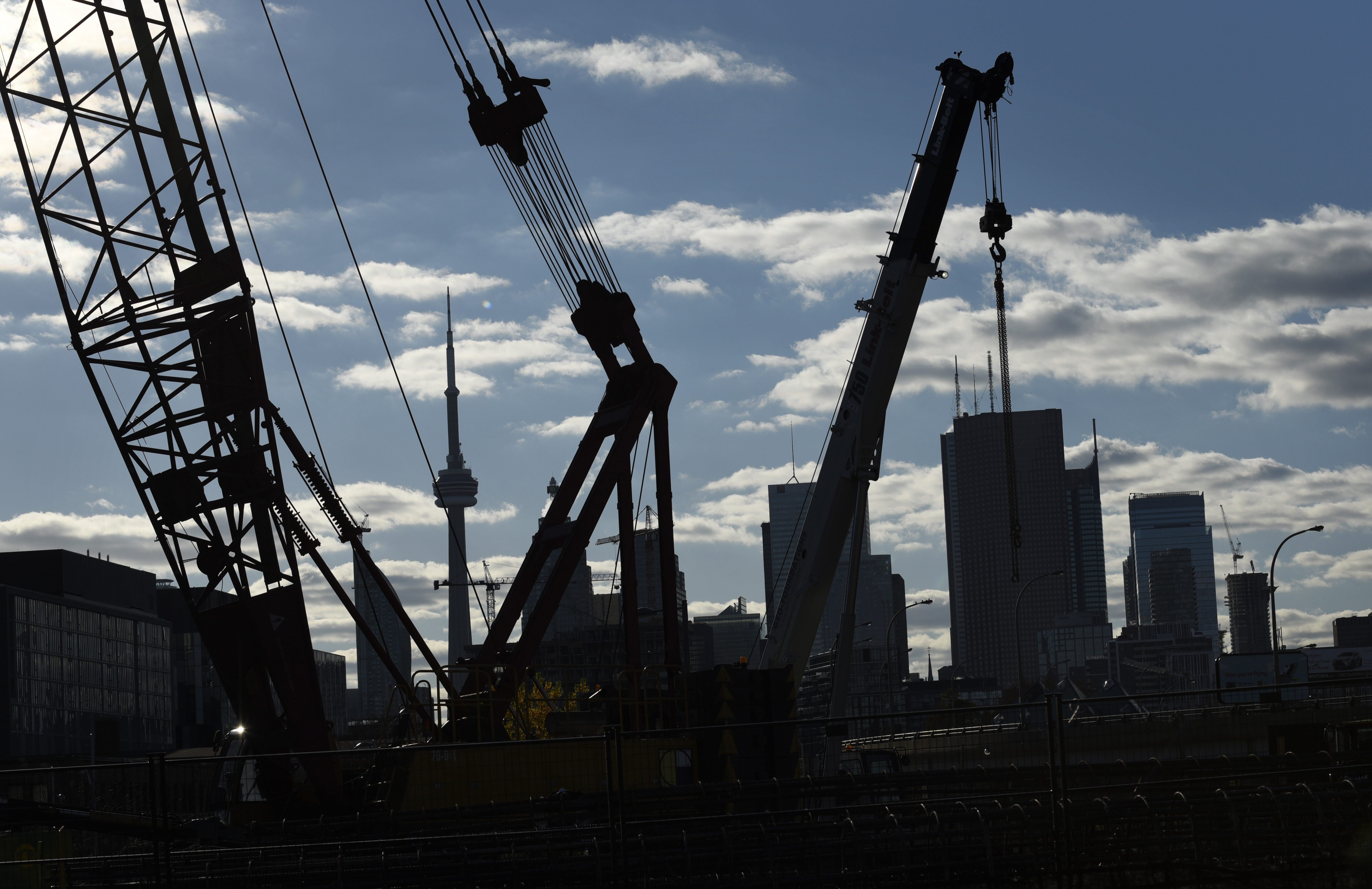 Construction cranes at a development site in Toronto's West Don Lands, Oct. 30, 2015. CMHC says Toronto has a "strong" risk of overvaluation. (Canadian Press photo)
The mortgage insurer's warning of overbuilding comes as some analysts see signs of a correction in some Canadian housing markets.
"The real estate correction is already happening -- just not where most expected," Bank of Montreal economist Robert Kavcic wrote in a recent report.
Kavcic noted that house prices are down 2.3 per cent in Calgary year on year, and are down 8 per cent from their peak in Regina. He sees the problem as being concentrated in the oil-producing regions.
"With unemployment on the rise and population growth set to cool [in oil producing areas], that new supply is coming onto an already-stagnating market," he wrote.
But the CMHC says it has found strong evidence of problematic conditions outside of oil-producing areas, noting Toronto and Ottawa, on top of western markets like Calgary, Saskatoon and Regina.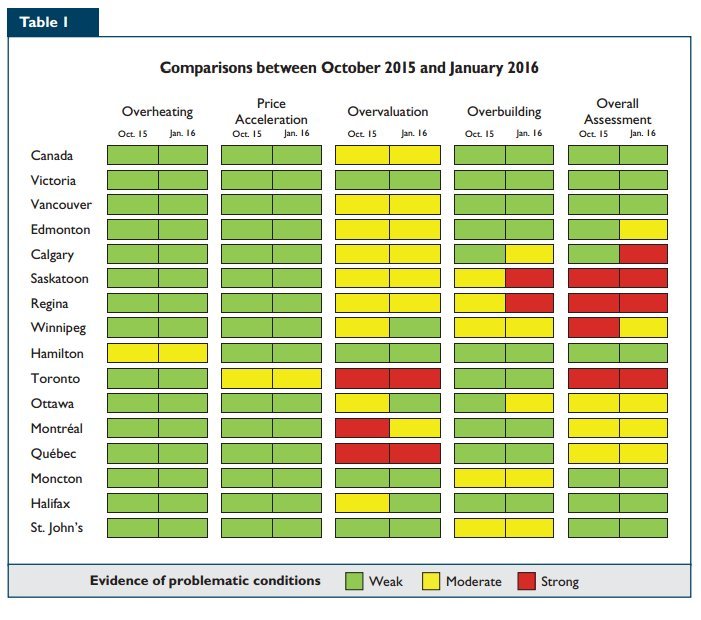 The CMHC's breakdown of risks in the housing market, by city. The overall assessment shows "strong" evidence of problematic conditions in Calgary, Saskatoon, Regina and Toronto, and "moderate" risk in Edmonton, Winnipeg, Ottawa and Quebec City. (Click for full size.)
In Toronto, CMHC says it has found evidence of price acceleration and overvaluation and is also looking at the possibility that overbuilding could become an issue, particularly in the condo market.
"As more centres are now showing problematic overbuilding conditions, inventory management is becoming more important," Bob Dugan, CMHC's chief economist, said in a statement.
CMHC's house price analysis and assessment aims to identify potential risks in Canadian real estate by evaluating economic, financial and demographic factors in a total of 15 housing markets.
The agency uses four factors to identify the level of risk present in regional housing markets: overheating of demand, accelerating price growth, overvaluation of prices and overbuilding.
-- The Canadian Press, with a file from The Huffington Post Canada
Photo gallery

Most Expensive Houses For Sale In Canada

See Gallery