With debates about unbuilt pipelines again raging in Canada, it seems the interim Conservative leader has opened a new line of attack that won't hold water.
In a Calgary Sun story published late Tuesday, Rona Ambrose said many Albertans are upset by what she deemed Prime Minister Justin Trudeau's reluctance to stand up for the energy sector.
"People want to know their prime minister is on their side, especially when they've just lost their job," she told the Sun.
"The problem is there is no evidence. The prime minister won't even say the word pipeline. He won't even say the word."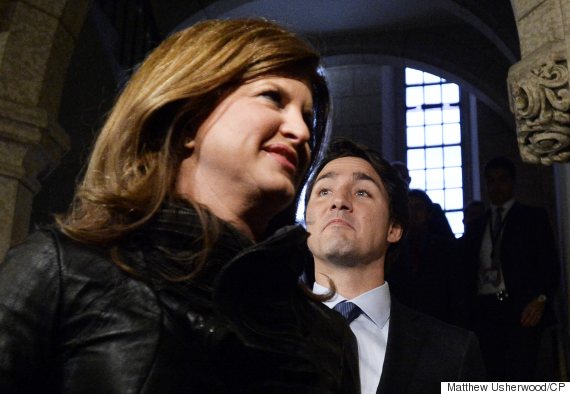 Interim Conservative Leader Rona Ambrose and Prime Minister Justin Trudeau enter the House of Commons earlier this week. (Photo: Matthew Usherwood/Canadian Press)
The problem for Ambrose? Trudeau used the "p-word" hours earlier at a widely covered press conference with Montreal mayor and Energy East opponent Denis Coderre.
"Obviously, as was in the news, we talked about pipelines and energy policy," Trudeau told reporters asking about the meeting at Montreal City Hall. "I highlighted that I'm always happy to hear perspectives from across the country on various projects."
Trudeau said it's his job to ensure that national projects are treated in "a way that both contributes to the economy, to a secure environment, to bringing people together and mostly to creating a better future."
He later said that, for 10 years, the previous government acted as a "cheerleader" for projects instead of a "responsible referee."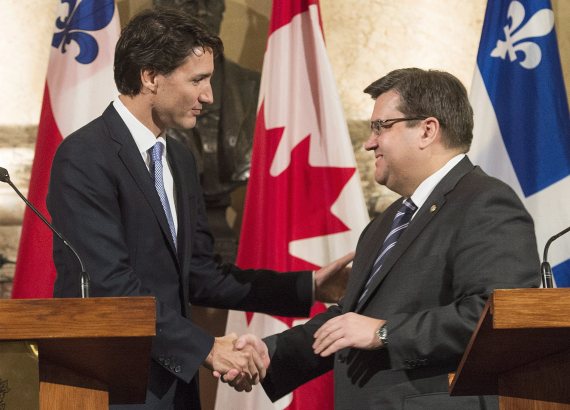 Justin Trudeau and Montreal Mayor Denis Coderre spoke to media on Tuesday. (Photo: Canadian Press)
While it's possible Ambrose missed Tuesday's presser, Trudeau also referenced pipelines last month while responding to her question in the House of Commons.
The interim Tory leader noted at the time that tens of thousands of Albertans have lost their jobs due to plunging oil prices and said Trudeau has not responded.
"Why is the prime minister turning his back on Albertans in their time of need?" she asked.
"They built their entire strategy around hoping that oil prices would remain high and when those did not, they were unable to help Alberta." — Justin Trudeau on Conservatives
Trudeau said Conservatives made a "big show about being a great friend to Alberta" but got nothing done for a decade.
"For 10 years, they were not able to build a pipeline," he said. "They built their entire strategy around hoping that oil prices would remain high and when those did not, they were unable to help Alberta."
Ambrose lauds Trudeau for taking her 'advice'
Conservatives have made Energy East a key area of focus since Parliament returned this week.
At a press conference Monday, Ambrose called out Coderre for opposing the project, saying such a move was "not in the spirit of national unity."
Later in question period, Ambrose sparked huge applause when she urged the prime minister to "stop using his cellphone for selfies with Leo DiCaprio" and instead use it to call Coderre.
Trudeau shot back that it was curious Tories were criticizing his government for "not getting done in 10 weeks what they were unable to do in 10 years."
On Tuesday, Ambrose rose in question period to cheekily "thank the prime minister for taking my advice and meeting with Mr. Coderre."
I'm pleased to hear the Prime Minister is going to take my advice and talk to Mayor Coderre. https://t.co/eLDOVLFGyK

— Rona Ambrose (@RonaAmbrose) January 25, 2016
Also on HuffPost
Rona Ambrose, Interim Conservative Leader