QUEBEC — Pierre Karl Peladeau is not a quitter and will run in the next provincial election, Opposition house leader Bernard Drainville said Wednesday in response to rumours some in the PQ caucus have lost faith in their leader.
Drainville denied suggestions the PQ caucus was grumbling and considering a leadership change after what has been a tough few weeks for Peladeau, both politically and personally.
"Pierre Karl Peladeau is not a quitter, OK?" Drainville said adamantly. "He has the support of the caucus. He has the support of the team. He has the support of the members. And Pierre Karl Peladeau will not quit. And all those who know him know that."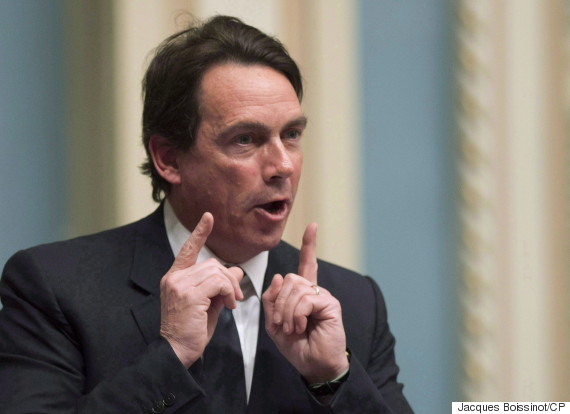 PQ Leader Pierre Karl Peladeau asks a question in the Quebec Legislature. (Photo: Jacques Boissinot/CP)
Peladeau was unavailable for comment Wednesday as he was off the job for a second consecutive day following the announcement of his separation from Julie Snyder less than six months after their high-profile wedding.
Recent reports alleged Peladeau was involved in tax havens abroad when he was president of media giant Quebecor Inc. -- allegations he denies.
There have been other rumours the PQ leader has been in conflict with the man he appointed as his chief of staff, Pierre Duchesne.
Yves-Francois Blanchet, a former PQ cabinet minister, said publicly this week that due to the negative publicity, the people around Peladeau will soon be positioning for a leadership change before the 2018 provincial election.
"Don't lose your saliva on any conjecture about whether or not he'll run in 2018."
Drainville said Blanchet "is completely wrong."
Pierre Cere, one of Peladeau's rivals during the leadership race last year, penned a letter in a Montreal newspaper saying the PQ leader is more driven by revenge against his critics than in uniting Quebecers.
Cere was referring to the criticism of Francois Legault, leader of the Coalition for Quebec's Future, who suggested Peladeau might run afoul of Quebec's election laws if he personally helps finance an institute on Quebec sovereignty.
In reaction, Peladeau sent Legault a cease-and-desist letter and threatened to do the same to the Liberals for similar criticisms.
"What should we think of a leader who seeks to muscle out all political debate on the question of financing his institute on sovereignty by sending legal letters to those who criticize him?" Cere wrote.
Drainville told reporters not to waste their breath with talk about Peladeau leaving.
"Don't lose your saliva on any conjecture about whether or not he'll run in 2018," Drainville said. "(Peladeau) will be there in 2018 and we will not only be competitive but I think we will win."
ALSO ON HUFFPOST:
Least, Most Popular Premiers (Dec. 2015)