VANCOUVER — Former University of British Columbia president Arvind Gupta has released a statement in which he criticizes the release of hundreds of pages of documents related to his resignation last August, just one year into his five-year term.
The 861 pages of documents released Monday included meeting agendas, receipts, emails and the terms of Gupta's resignation, but do not reveal why he stepped down.
In a statement issued late Wednesday, Gupta calls the documents a "one-sided representation'' of what happened in the months prior to his resignation.
Emails show UBC board of governors chair John Montalbano wanted to have a "confidential discussion, not captured on email'' with Gupta just days before board members received notice about a meeting where they would discuss the president's resignation.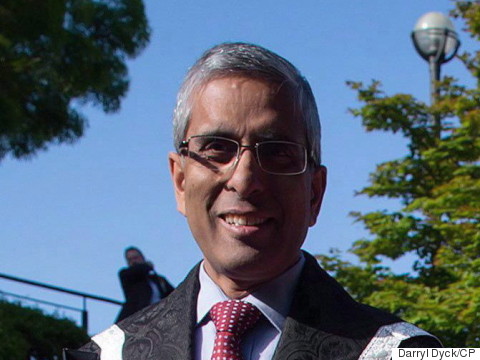 Former University of British Columbia President Arvind Gupta is seen in Vancouver, B.C., on May 20, 2015. (Photo: Darryl Dyck/CP)
Montalbano himself stepped down last October after an investigation into a professor's claims that she was intimidated after writing a blog post suggesting Gupta lost a "masculinity contest'' with the school's leadership.
Gupta said in his statement that it became clear last summer that he "did not have the support of the full board and felt he had ''no other option but to resign."
He said there was "never any formal review'' of his performance, or outreach by the board to the broader university community. This, Gupta said, would have allowed both him and the UBC board to assess his first year accomplishments and the work that lay ahead.
The documents include an agreement dated Aug. 6, 2015 that shows UBC agreed to top-up Gupta's $446,750 salary until Jan. 31, 2016, and that he would be given a year's leave of absence from Feb. 1, 2015 to Jan. 31, 2017, plus a $130,000 research grant.
Also On HuffPost:
Canadian Universities That Rank Among the World's Best, According to QS