John Scott may not be the NHL's best player, but he may be the league's most popular star right now.
And an eloquent essay is only making him more of a fan favourite ahead of Sunday's NHL All-Star Game.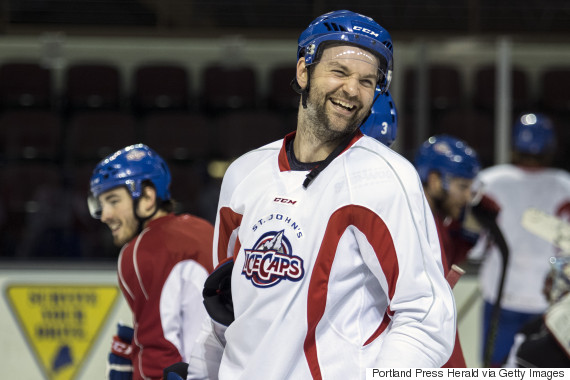 John Scott shares a laugh with his teammates as he practices with the St. John's Ice Caps, an AHL affiliate of the Montreal Canadiens, in Portland this week. (Photo: Gabe Souza/Portland Press Herald via Getty Images)
At 6'8" tall, Scott is a player known mostly for fighting on the ice — something he admits in a column he penned for The Players' Tribune.
An Internet fan vote chose Scott as a Pacific Division captain for the elite game. But the Montreal Canadien's selection was widely seen as a joke — a prank that NHL fans played on the league.
The engineering grad reveals that while he's well aware he's the least likely player to be among the All-Stars — he racked up one point in 11 games this season — he still paid his dues.
In his essay published this week, Scott wrote:
".. this isn't Charlie and the Chocolate Factory. I'm not some random person off the street, and I didn't win a golden ticket to "play hockey with the stars." ....

And that didn't happen because of the internet. I busted my ass to be one of them. I've skated every day since I was three years old to be one of them. I've persevered through Juniors roster cuts, Alaskan bus rides, Advanced Dynamics exams, and — yes — fights, to be one of them.

But I'm one of them. And that means a lot to me."

Read the whole essay at The Players' Tribute
Scott also talked about how a league staffer tried to pressure him into skipping the All-Star Game.
"While I don't deserve to be an All-Star, I also don't think I deserve to be treated like I've been by the league throughout this saga," wrote the native of Edmonton.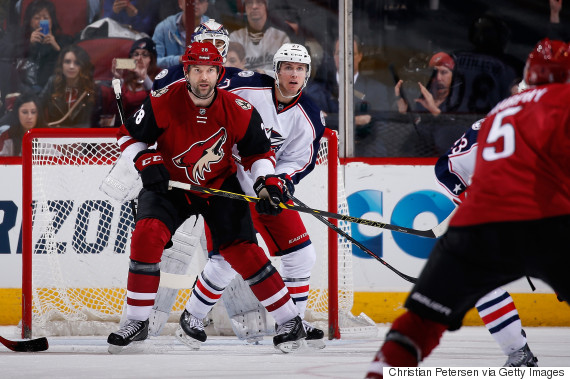 John Scott, then of the Arizona Coyotes, is seen in a game from December 2015. (Photo: Christian Petersen/Getty Images)
Scott's All-Star contention was thrown into doubt when he was traded from the Arizona Coyotes to Montreal and demoted to its minor league affiliate, the St. John's Ice Caps.
The NHL later decided to let him play, TSN reported. And fans are lapping it up.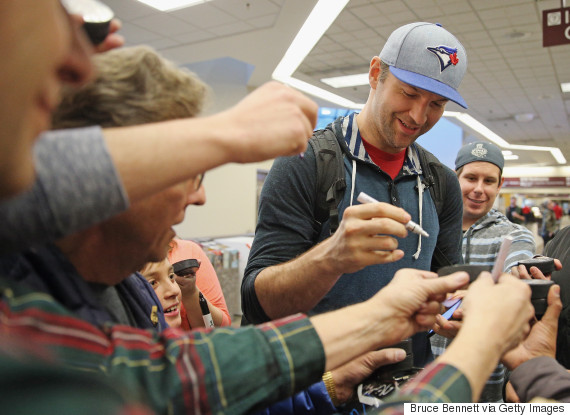 John Scott signs autographs for fans on arrival at the Nashville International Airport on Thursday. (Photo: Bruce Bennett/Getty Images)
The league's online shop is sold out of John Scott shirts just days away from the game in Nashville.
And now Scott is out to prove he's not a joke, he told Postmedia News' Michael Traikos.
"I guarantee I'll be good," he said of the pre-game skills competition. "I think they'll be trying to get me goals. I'll be sure to tell them before the game, 'Let's get the big guy goals.'
"I'll get a hat trick and everyone will be like, 'Oh wow.'"
Like Us On Facebook

Follow Us On Twitter

Also on HuffPost