Quebec Premier Philippe Couillard is holding steady in the key finance and health portfolios in his first cabinet shuffle since being elected in 2014.
Carlos Leitao stays on as finance minister and Gaetan Barrette continues as health minister.
One of the big winners in today's shuffle is newcomer Dominique Anglade, a former president of the Coalition for Quebec's Future, who gets the economy portfolio.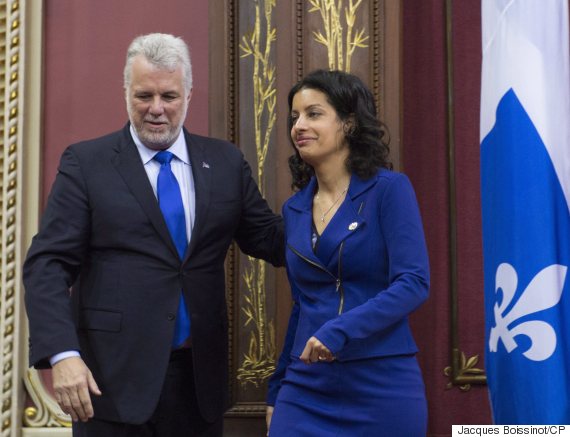 Quebec Premier Philippe Couillard welcomes newly-sworn-in Economy, Science and Innovation Minister Dominique Anglade during a ceremony at the Quebec legislature. (Photo: Jacques Boissinot/CP)
Couillard is also giving more responsibility to former treasury board minister Martin Coiteux, who will head the municipal affairs and public security departments as well as having to tend to relations with Montreal.
Pierre Moreau, the former municipal affairs minister, becomes the third education minister in 20 months.
Ex-public security minister Lise Theriault remains deputy premier after coming back from a sick leave she took last fall amid reports provincial police officers had abused native women in northwestern Quebec.
Theriault becomes responsible for women's issues and small- and medium-sized businesses.
The Liberals were elected with a majority government in April 2014 and the next election is set for the fall of 2018.
Also on HuffPost
Least, Most Popular Premiers (Dec. 2015)