You could once draw a clear line between Vancouver neighbourhoods that were filled with single-family homes worth over $1 million, and those with cheaper housing.
Today, it's easier to draw a line where the $2-million homes begin.
That's according to maps produced by Andy Yan, an urban planner with Bing Thom Architects (BTA) and acting director of SFU's City Program.
He used data from the BC Assessment to show precisely where property values are rising throughout the City of Vancouver. And the answer is basically everywhere.
This slider graph shows how many more $2-million homes can be found in the city between 2015 and 2016: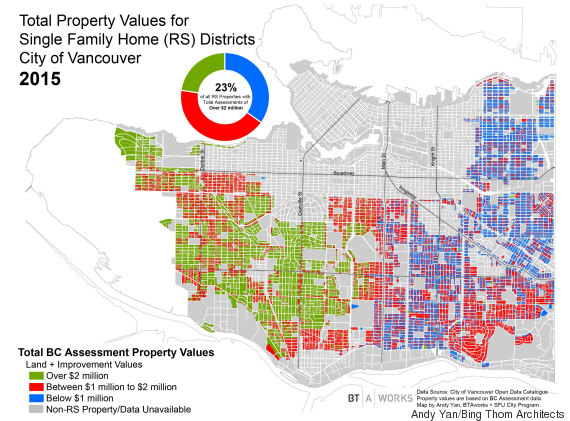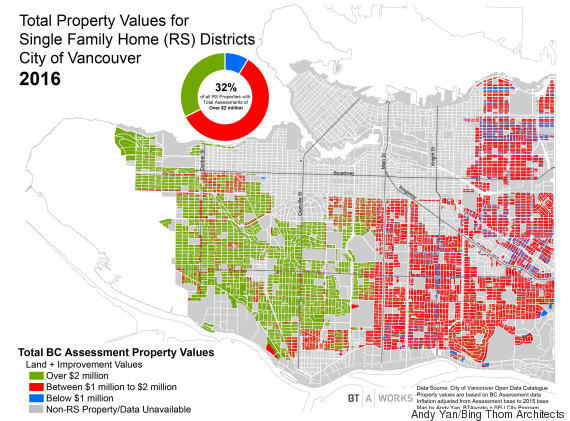 These maps show that 32 per cent of residential properties in Vancouver were assessed at $2 million or more in the 2016 assessment, compared to 23 per cent in the previous year.
Many of those homes are concentrated on Vancouver's west side, which is home to affluent neighbourhoods such as Shaughnessy.
Indeed, Yan roughly identified Ontario Street as Vancouver's new $2-million boundary: the point at which homes to the west were worth that much or more, though some spilled east of that line.
"It's going back to what the old $1-million line boundaries were a couple of years back," he told The Huffington Post B.C.
These revelations come as Yan noticed the $1-million line effectively disappearing in Vancouver. He was once able to pinpoint a street at which homes west of it were worth $1 million or more.
These maps show that line doesn't exist anymore: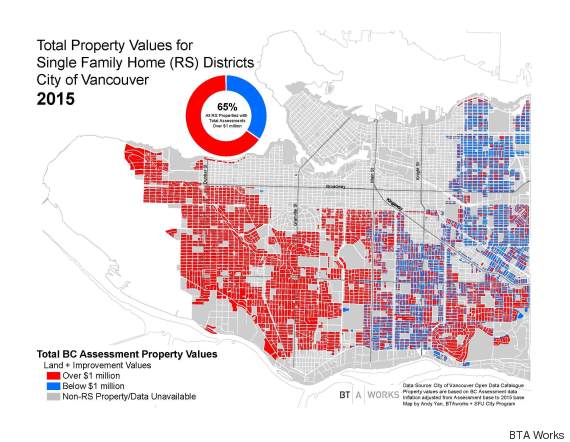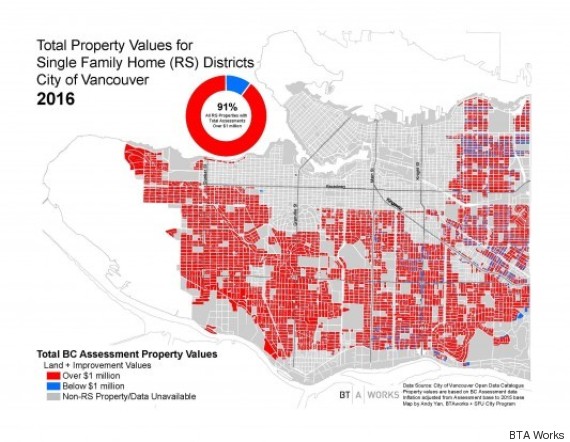 The dominance of red reflects the fact that 91 per cent of all single-family homes in the city were valued at over $1 million in the latest B.C. assessment.
That's up from 65 per cent last year.
Yan told The Globe and Mail that the increases are due to a number of factors, such as low interest rates, baby boomers helping their kids buy homes, and Chinese buyers snapping up property on Vancouver's west side.
"Is this a measure of Vancouver's livability? A sign of success, or a threat to the city's affordability?" Yan told the outlet.
"It is local residential real estate attracting global capital. But there are consequences for young families."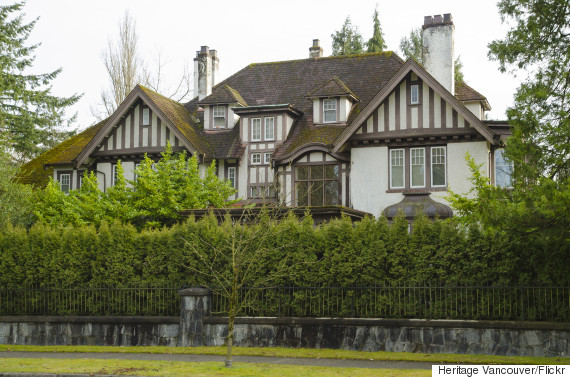 A mansion in Vancouver's west side Shaughnessy neighbourhood. (Photo: Heritage Vancouver/Flickr)
Those consequences include "overcrowding, over-indebtedness, sprawl" and young people leaving the city, Yan told HuffPost B.C.
"Either they can't afford it or they have a risk aversion to this type of game," he said.
Yan laughed when asked what governments should do to make the city more affordable for the middle class.
"How about any class family, the way things are going?" he said.
Among other things, Yan said that denser, more family-oriented communities with a mix of housing such as condos, townhomes and duplexes should be developed around the city, "not only in a few concentrated spots."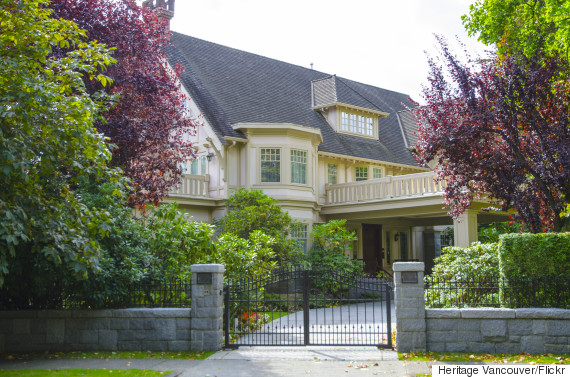 A mansion in the west side Vancouver neighbourhood of Shaughnessy. (Photo: Heritage Vancouver/Flickr)
The planner has long gathered data on Vancouver's housing market — and his efforts have sometimes proven controversial.
Last year, he released a study that examined 172 home sales in three Vancouver west side neighbourhoods to determine how foreign investors were influencing the city's housing market.
It found that 66 per cent of the houses were owned by people with non-anglicized Chinese names — suggesting, to him, that they were recent immigrants to Canada.
Vancouver Mayor Gregor Robertson responded to the study by saying that the housing issue "can't be about race, it can't be about dividing people," CBC News reported.
"It needs to get to the core issue about addressing affordability and making sure it's fair," the mayor said.
Earlier this month, Robertson responded to rising real estate values in the BC Assessment by reiterating his call for a speculation tax.
He also called for "far better tracking of data on international investment and absentee ownership from both the federal and provincial governments."
Like Us On Facebook

Follow Us On Twitter

Follow Us On Instagram
Also on HuffPost:
West Vancouver Home Has A Garage For The Yacht