OTTAWA — Canada's environment ministers are meeting today in Ottawa in an effort to negotiate a national carbon-cutting strategy to meet the country's ambitious international targets. Provincial and territorial ministers arrived Thursday for talks with federal counterpart Catherine McKenna, in advance of a full-blown first ministers conference with Prime Minister Justin Trudeau tentatively set for the first week of March.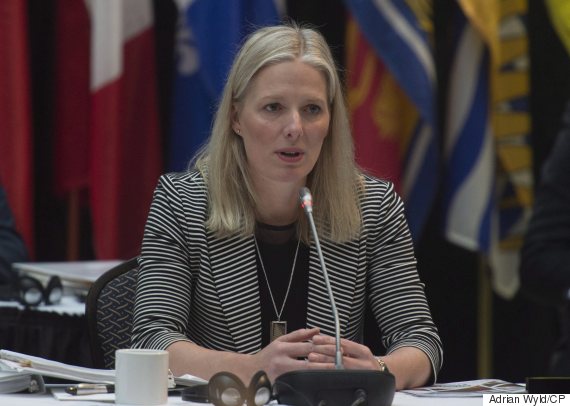 Catherine McKenna delivers opening remarks at a meeting with her provincial counterparts. (Photo: Adrian Wyld/CP)
It's the first such meeting on the climate file in almost a decade, a period during which provinces have each pursued their own climate policies in the absence of an over-arching national plan. At a UN-sponsored summit last month in Paris, the new Liberal government — in consultation with the provinces — agreed with nearly 200 countries to limit global warming to below two degrees Celsius by mid-century. Canada, one of the highest per-capita emitters in the world, is not currently on track to meet its existing targets for GHG reductions — and experts say those targets must be lowered if Canada is to meet the two-degree warming threshold. The Liberals have promised to create a national price on carbon and some of the toughest negotiations among the ministers appear likely to revolve around finding a floor price on carbon to which all provinces can agree.
Also on HuffPost
Drone Images Highlight Climate Change