Bloomberg via Getty Images
Talk about talking down your own industry.
Rosneft, Russia's largest oil company, did everything it could to kill a rally in oil prices Thursday, with a spokesperson calling it "idiotic" and arguing it was based on a misreading of news reports.
Oil prices soared as much as 8 per cent Thursday after news reports indicated Russian Energy Minister Alexander Novak had said Russia could discuss production cuts with OPEC in February.
Some observers evidently took that to mean that OPEC, a global oil cartel unofficially led by Saudi Arabia, was ready to cut oil production, a move that would boost oil prices. OPEC quickly denied that a production cut was in the works.
Rosneft spokesperson Mikhail Leontyev said people had read way too much into that news report.
"Consultations with OPEC happen all the time," he told the Financial Times. "All positions are well known, they have not changed in any way."
Asked about the possibility of a Russian oil production cut, he said, "Anything is possible. … [But] nothing new has happened. This frenzy is idiotic. It stems from the fact that people can't read."
Geez. Don't hold back, buddy, tells us what you really think.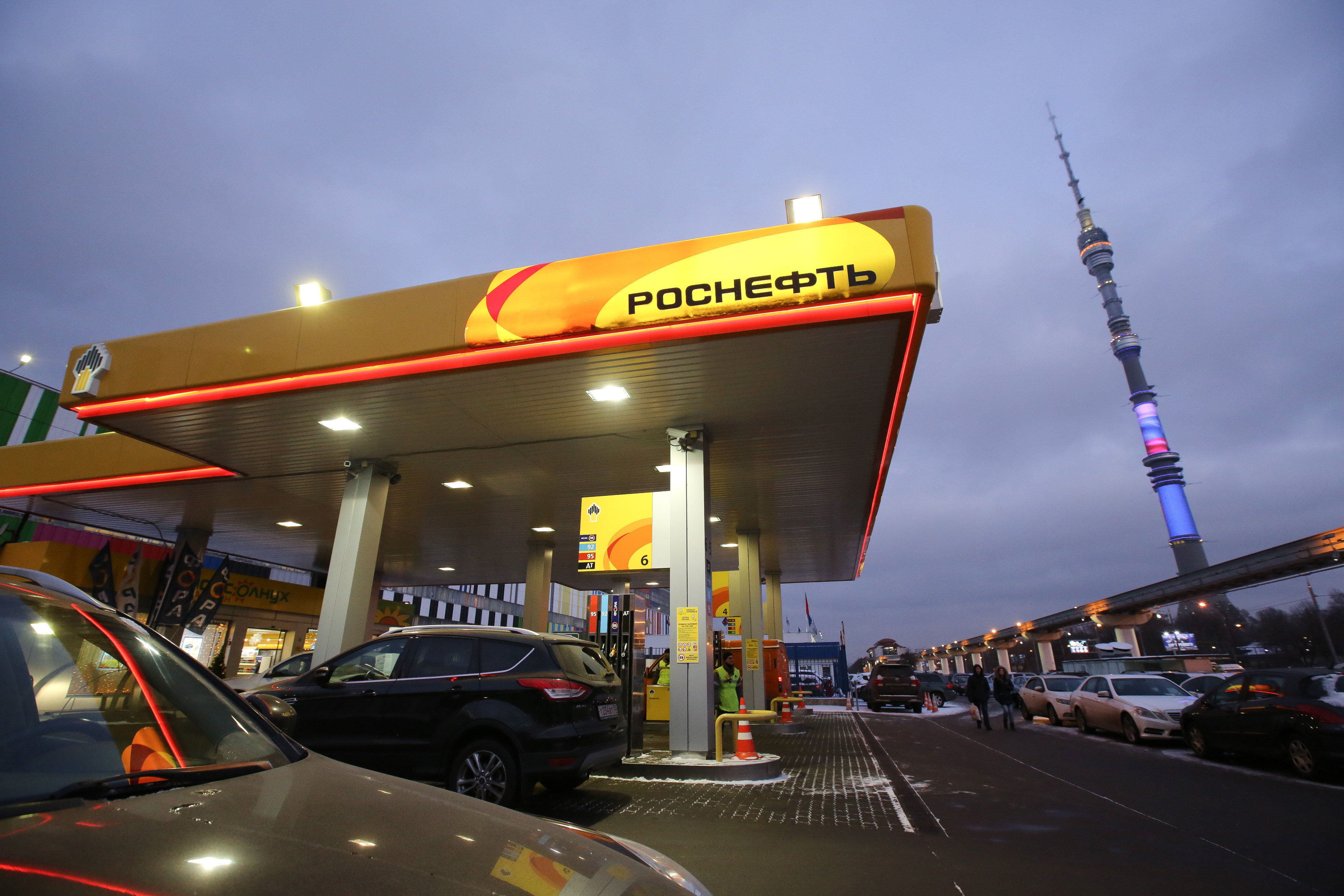 An OAO Rosneft gas station near the Ostankino TV tower in Moscow, Russia, on Tuesday, Dec. 2, 2014. (Getty Images)
Investors seem to have gotten the message. Crude oil prices fell back down after denials from OPEC, and today's word from Iran that it won't join any OPEC oil cuts pretty much ended the rally. Oil was trading largely flat as of noon ET, with North American crude at US$32.39.
Why Would Rosneft Talk Down The Oil Market?
If Rosneft has no plans to reduce oil production, the company may simply be trying to manage expectations, albeit in a very colourful way. Rosneft's CEO, Igor Sechin, has previously argued that it's very difficult for Russia's oil industry to cut production.
But, like Saudi Arabia, Russia may want to see some of the new oil fields that have come online in recent years go out of business — particularly the U.S.'s shale oil play, which in just a few years has made the U.S. the world's largest oil producer. So it may be in the country's interest to keep prices low until more American rigs are shut down.
This is essentially why Saudi Arabia has maintained current oil production levels, despite its own estimate that the world is producing 3 million more barrels of oil per day than it needs.