New Democrats say a survey on the Liberal party website inviting Canadians to share their federal budget priorities is not what it seems.
Alexandre Boulerice, the NDP's ethics critic, released a statement this week calling out the Liberals for a so-called "consultation survey."
The online questionnaire includes seven questions on topics ranging from infrastructure to the best way the new government can help the middle class.
But before Canadians can submit their results, they must first divulge personal information, including their name, address, phone number, postal code, email, date of birth, and gender.
And that has led Boulerice to conclude that the governing party is just trying to fill its data bank with information that can be used for future partisan activities and political fundraising.
"Suggesting that the opinions gathered in this survey will be used in the government budget is misleading," Boulerice said in the release. "If the Liberal Party really wanted to know Canadians' priorities they'd hold pre-budget consultations in Parliament, as is normally done, or use a government and not a partisan website.
"This tactic is misleading and doesn't pass the ethics test."
"Suggesting that the opinions gathered in this survey will be used in the government budget is misleading."
Boulerice ends the statement by saying this was "not the kind of change Canadians asked for."
Finance Minister Bill Morneau is expected to release a budget in March.
Morneau's press secretary, Annie Donolo, told The Huffington Post Canada via email that the minister and his parliamentary secretary are consulting directly with Canadians about the budget.
"These are the most open, accessible pre-budget consultations ever," she said, adding that more than 150,000 Canadians have been reached in person or online.
She said Canadians are encouraged to share their ideas on the government's budget website.
Popular tactic with parties
Political parties often turn to petitions and surveys on their websites to get access to valuable information — typically email addresses — from supporters.
Just this week, the NDP launched a page asking Canadians to add their email address to a petition demanding "real action" on income inequality.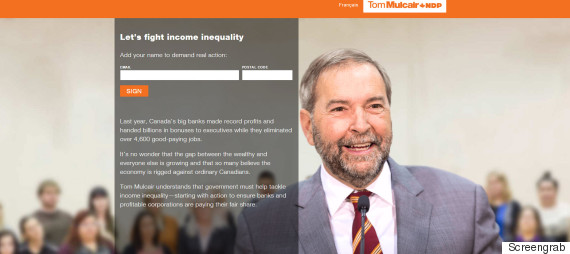 And Conservatives created a website accusing Prime Minister Justin Trudeau of "siding with (Russian President) Vladimir Putin and (Iranian leader) Ayatollah Khamenei instead of the people of Ukraine and Israel."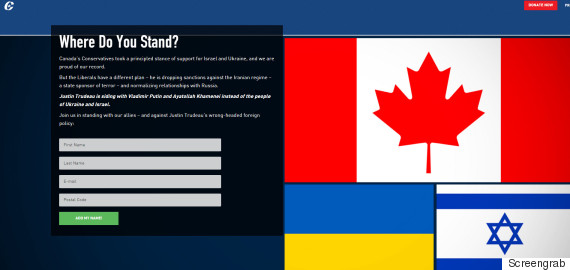 Also on HuffPost