WINNIPEG — Manitoba's governing New Democrats are losing another senior politician in the lead-up to the April 19 provincial election. Justice Minister Gord Mackintosh says he will not seek re-election, putting an end to a 23-year career in the legislature. Mackintosh was nominated last spring to run again in the St. John's constituency in Winnipeg, but has changed his mind.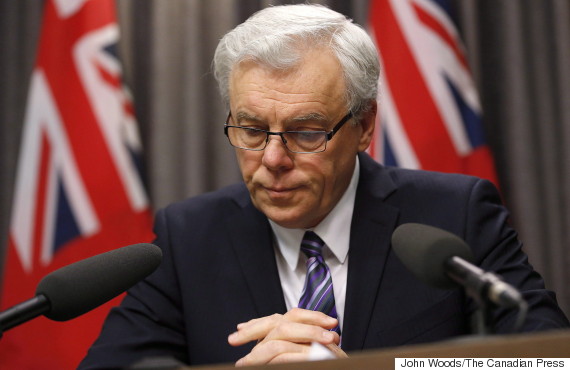 Manitoba Premier Greg Selinger responds to questions regarding the Speech from the Throne. (Photo: John Woods/CP)
Mackintosh has been a cabinet minister since 1999 and has held other portfolios including conservation and family services. Another senior New Democrat, Jennifer Howard, announced earlier this week that she is leaving politics as well. The NDP has been lagging in opinion polls, and political analyst Paul Thomas says the resignations of senior party members hurts the governing party. "It damages the image and reputation of the party," Thomas said Friday. "It probably reflects badly, in the eyes of many people, on (Premier Greg) Selinger's ongoing leadership of the party — that he couldn't persuade or cajole people into staying." The NDP plummeted in opinion polls after raising the provincial sales tax in 2013. The following year, five senior cabinet ministers openly challenged Selinger's leadership. Selinger barely survived the ensuing leadership vote. Mackintosh took no side in the leadership crisis.
Also on HuffPost
Least, Most Popular Premiers (Dec. 2015)