TORONTO — The trial of disgraced CBC Radio host Jian Ghomeshi gets underway next week in Toronto. Here's what we know about the judge, the Crown prosecutor and Ghomeshi's defence lawyer: ———
Ontario Court judge William Horkins
The judge presiding over one of the year's most high-profile criminal trials is no stranger to hot-button issues. Three years ago, Ontario judge William Horkins ruled that police street checks — also known as carding — were unconstitutional, a debate that carries on among many police forces to this day. He nonetheless allowed the gun found during a carding stop to be entered as evidence and found the accused guilty of unauthorized possession of an unauthorized firearm. Horkins was called to the bar in 1980 and served as both a Crown attorney and a defence lawyer before he was appointed to the bench in 1998. ———
Crown prosecutor Michael Callaghan
The lawyer tasked with putting Jian Ghomeshi behind bars also led the prosecution against a young man who fatally shot his abusive father with a crossbow at a Toronto public library. Michael Callaghan, a career Crown lawyer, successfully prosecuted Zhou Fang in the gruesome 2010 slaying, a case the presiding judge deemed "exceptionally difficult," according to media reports at the time. He also led the charge against a serial arsonist best known for setting fire to the Empress Hotel in downtown Toronto, and a volunteer hockey coach who secretly videotaped teenage athletes in the showers of an arena. Both pleaded guilty. Callaghan, who has recently been working on policy matters, is a fair and competent prosecutor, said Anthony Moustacalis, president of the Criminal Lawyers' Association.
"He's well-balanced as a prosecutor."
"He's well-balanced as a prosecutor," Moustacalis said. "He has a good reputation for good judgment but also trial skills." Though the Ghomeshi case has made international headlines, Callaghan himself is unlikely to seek the spotlight. Crown lawyers tend to keep a low profile because "their professional ethics dictate that they do their talking in the court," unlike defence lawyers, who have no such constraints, Moustacalis said. What's more, he said, Callaghan is "more easy-going" than Marie Henein, the defence lawyer he will face in the courtroom.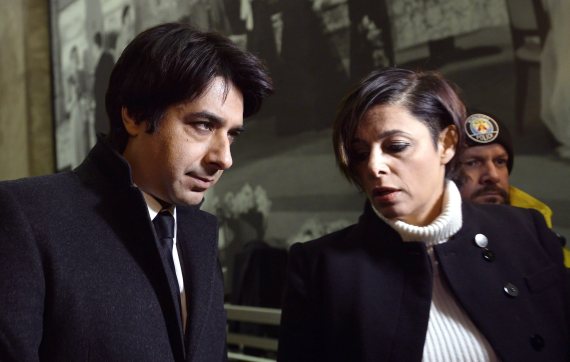 Jian Ghomeshi, left, and his lawyer Marie Henein arrive at court in Toronto on Jan. 8, 2015. More than a year since the allegations against Jian Ghomeshi sent shock waves across the country, his highly anticipated trial is set to begin in Toronto on Monday. (CP)
———
Ghomeshi's defence lawyer Marie Henein
She's been likened to Hannibal Lecter for her ability to zero in on people's weaknesses, but the lawyer representing Jian Ghomeshi is also known for fighting for those who can't defend themselves, one of her peers says. The former CBC host's file is the latest in a series of high-profile cases that have earned Marie Henein a reputation as a clever and tireless defence lawyer who leaves no stone unturned in preparing for trial, said Jonathan Rosenthal, a Toronto criminal lawyer. "She's certainly one of the go-to lawyers in the city Toronto," said Rosenthal, who has known Henein since she was a law student. A protegee of the late Edward Greenspan and Marc Rosenberg, Henein is equally comfortable arguing at trial or appeals, and takes on a considerable amount of pro bono work, he said.
"She's certainly one of the go-to lawyers in the city Toronto."
Henein, who he described as a "fearless advocate," helped organize the duty counsel system at the Ontario Court of Appeal so that people could be fairly represented. "You read about all the high-profile cases Marie does, but she's someone who does a lot of work for free," Rosenthal said. Taking on the case of former Ontario attorney general Michael Bryant, who was charged with criminal negligence causing death and dangerous driving causing death in 2009, was a turning point in her career, he said. The charges against Bryant were withdrawn before the case went to trial. In his memoir, Bryant later said his lawyer seemed to "channel Hannibal Lecter" for her ability to "find a person's deepest frailties and exploit them." She has also represented former junior hockey coach David Frost, who was acquitted on sexual exploitation charges, and American rapper Ja Rule, who pleaded guilty to an assault charge over a fight at a Toronto nightclub. Henein has made Canadian Lawyer magazine's list of most influential lawyers for several years. ———
Also on HuffPost
Jian Ghomeshi Case: A Timeline