Choosing the right wedding cake is a little more complicated than just picking the right flavour. As one of the most photographed things on your big day, your wedding cake should be as spectacular as the gown (or suit) you're wearing.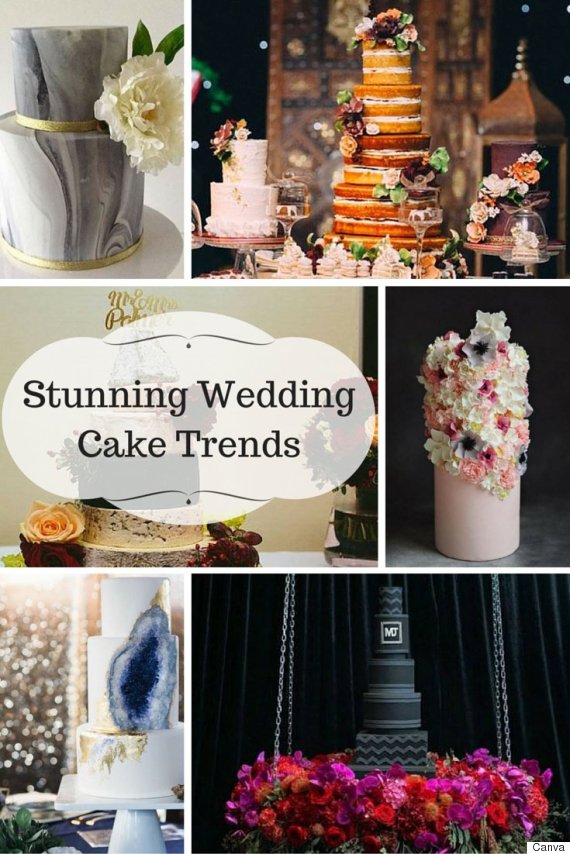 Below, we've rounded up 11 of our favourite wedding cake trends. From naked cakes to cheese "cakes" to cakes painted in a variety of colours, these inspiring designs almost look too good to eat.
Once you've chosen your cake, make sure you're doing it justice by showing it off to your guests. Follow these display do's and don'ts to get the most out of your cake.
Naked Cakes
Naked cakes first broke on to the scene in 2014, and they've been gaining in popularity ever since.
Candy-Coated Cakes
Who needs cake toppers when you can use cookies? Chocolate, cake and candies are some of our favourite things, so putting them all together is a dream come true.
Geode Cakes
This incredible creation is made with rock candy and white chocolate and edible gold. Since cake designer Rachael Teufel posted the cake on Facebook earlier this week, it has been shared more than 42,000 times, which leads us to believe it's only a matter of time before we see these stunners popping up in wedding photos all over the internet.
Metallic Cakes
Wedding stationary almost always involves metallics. Keep the elegant theme alive on your big day by choosing a cake that incorporates the colours. Metallic cakes also look great at vintage, glam and Art Deco-styled parties.
Floral Cakes
The exact opposite of naked cakes, floral cakes are dressed up with edible flowers.
Painted Cakes
Hand-painted cakes are simply stunning, and a great way to add character to your cake, minus all the extra frosting.
Cheese Cakes
Desserts aren't for everyone, so the perfect alternative to a sweet cake is a savoury cheese "cake". Simply layer rounds of artisanal cheese to create the same layered look of a classic wedding cake.
Ruffled Cakes
If you're not a fan of flowers, ruffles provide a light and airy look to traditional tiered cakes.
Lace Cakes
Take the gorgeousness of your gown and incorporate it into your cake.
Black Cakes
Black is beautiful, so it's no surprise that the colour is gaining popularity on the wedding scene. From black dresses to cakes to bouquets, we hope this trend is here to stay.
A Dual Personality Cake
A wedding day is about two people coming together, so it's only fair that your cake represents both people. A dual personality cake can have the classic look one partner might prefer with a portion of the cake revealing a more light-hearted tone.
Ombre Cakes
The soft fading of your wedding colours is sure to look stunning on your wedding cake.
Also on HuffPost
Steal-Worthy Wedding Cake Designs