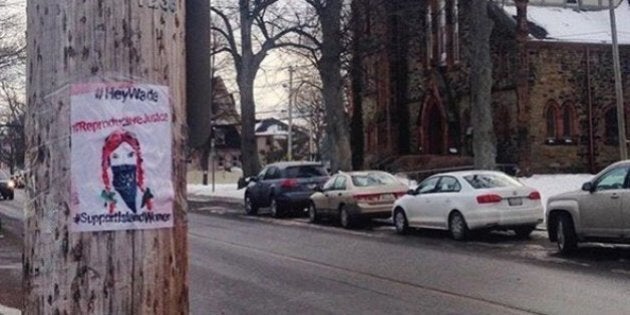 CHARLOTTETOWN — P.E.I.'s most celebrated red-head has been dragged into an ongoing dispute over access to abortion in the small province.
Abortion rights activists have enlisted Anne of Green Gables — the freckle-faced fictional character known for her bright red braids — in their campaign to pressure the provincial government to allow abortions to be performed on the Island.
Posters demanding "Access Now" have been plastered on sign posts, mailboxes and telephone poles throughout Charlottetown over the last day, and feature a young woman with orange braids wrapped in green bows with a blue bandana partially obscuring her face.
P.E.I. Right to Life questioned the use of the beloved literary character, suggesting Anne was an unwanted orphan who celebrated life in challenging circumstances. The group also questioned the legality of using a registered trademark.
Nicole Dupuis, the group's executive director, said she couldn't understand why the abortion rights activists chose to use a figure who found joy in life after rough beginnings.
"I thought it was kind of ironic that they would use an adopted fictional character who's dear to all Islanders because she's the epitome of the unexpected blessings of choosing life even in challenging and non-idyllic circumstances," she said.
The posters include several hash tags, including #HeyWade for Premier Wade MacLauchlan and #SupportIslandWomen. At the centre is a character named Karats, possibly in reference to Anne's nickname, "Carrots."
"I think it's great," Josie Baker of the Abortion Rights Network said in an interview, adding that she was not involved in designing or distributing the poster.
"The red braids get attention from the rest of Canada, but I don't think it's offensive at all. I think it's just a creative expression that is part of the movement."
The anonymous group behind the campaign said in a statement that the character Karats had seen how the lack of abortion services on the Island had affected women, particularly those with low incomes who can't afford to travel to Nova Scotia or New Brunswick to have the procedure.
It also said it wants MacLauchlan to concede to a Charter challenge that argues the lack of abortion services infringes on women's right to full health-care services.
"She sees the denial of access and upholding of barriers to abortion services by the P.E.I. government as putting the kibosh on an opportunity for gender equality across our province," it said.
A new group recently launched a challenge of P.E.I.'s abortion policy to provide fully funded and unrestricted access to abortion, arguing that making women travel off the Island to undergo the procedure is discriminatory.
Abortion Access Now P.E.I. said last month it had notified the province's deputy attorney general that it intends to file a notice of application in the Supreme Court of P.E.I. in 90 days, as required by law.
The group said the province is violating the Charter of Rights and Freedoms, along with its own health policies, by refusing to provide surgical abortions on the Island.