The Screen Actors Guild Awards do not have a host, but presenters Tina Fey and Amy Poehler still managed to steal the show by firing comedic jabs in Leonardo DiCaprio's direction.
The "Sisters" co-stars and "Saturday Night Live" alums were on hand to give Carol Burnett her Life Achievement Award, and began their tribute by pointing out how comedy is much harder than drama. While Fey facetiously attacked "Spotlight" star Michael Keaton and joked he "takes the dramas to relax," Poehler had her guns set on DiCaprio.
"So you slept in a horse and ate bison liver," said Poehler. "Big whoop. Carol [Burnett] would have slept in that horse, worn it, done a song and dance, and made a much funnier face after eating something disgusting."
The camera quickly cut away to DiCaprio, who looked mortified.
The actor found himself in Fey and Poehler's crosshairs once before, at the Golden Globes in 2014.
"And now, like a supermodel's vagina, let's all give a warm welcome to Leonardo DiCaprio," said Fey, then an awards ceremony co-host, seconds before DiCaprio took to the stage to present an award. As he approached the microphone, he gave the two a thumbs up for their quip.
Though Poehler's DiCaprio joke got the biggest laugh of the night at the SAG Awards, she quickly put the focus back on Burnett.
"Thing is, Carol [Burnett]'s better than all of us," said Poehler. "We're going to give her a prize for it."
Soon after, Burnett received a standing ovation from the crowd and was escorted up to the stage by Steve Carell. In her speech, she thanked Fey and Poehler for their tribute, and it's fair to insinuate their killer routine certainly made her proud.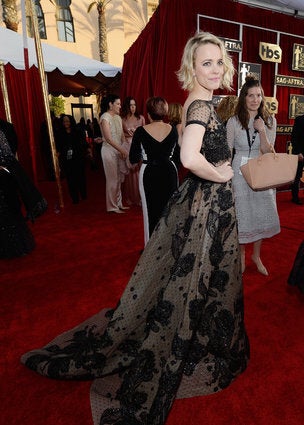 2016 SAG Awards Red Carpet (Photos)