Young Jacob Tremblay can still remember his first Screen Actors Guild Award nomination, just like his peers. However, his honour came when he was "only nine years old and [he] was competing against Batman."
These are the Vancouver native's own words, which he shared with the SAG Awards crowd on Saturday night while presenting the award for Outstanding Performance by a Male Actor in a TV Movie or Miniseries with his "Room" co-star Brie Larson.
Not to diminish Tremblay's joy of being in the same category as "The Big Short" star Christian Bale, Larson corrected his memory about his first SAG Awards experience and said, "that was this year, Jacob."
"You're nominated right now."
Though Tremblay did not win a trophy for Outstanding Performance by a Male Actor in a Supporting Role (that went to Idris Elba for "Beasts of No Nation"), Larson triumphed in the Outstanding Performance by a Female Actor in a Leading Role race. The 26-year-old also gave him props during her acceptance speech.
"To Jacob Tremblay, my inspiration," said Larson. "Everything that is this movie is because of you"
"Room," which is nominated for four Academy Awards including Best Picture, is the story of how a mother and son adapt to their new reality after being held captive in a small shed for seven and five years respectively. The film, which is a Canadian-Irish co-production, is also up for 11 Canadian Screen Awards.
Despite the film's intense subject matter, Tremblay has become the breakout star of awards season with his refreshing candour and youthful energy.
He's had lightsaber battles with Oscar Isaac, met his "best friend" Johnny Depp and danced to Marc Ronson and Bruno Mars' "Uptown Funk" after winning a Critics' Choice Award. On Saturday, Tremblay finally met another one of his heroes - Leonardo DiCaprio.
Tremblay had several celebrity encounters at the SAG Awards. He posed with Naomi Watts — his co-star in the upcoming film "The Book of Henry" — and made sure to snap a photo with fellow Canadian Rachel McAdams, whose film "Spotlight" took home the night's top prize for Outstanding Performance by a Cast in a Motion Picture.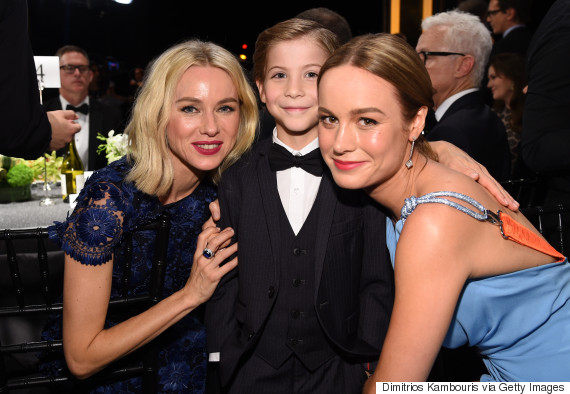 LOS ANGELES, CA - JANUARY 30: (L-R) Actors Naomi Watts, Jacob Tremblay and Brie Larson pose during The 22nd Annual Screen Actors Guild Awards at The Shrine Auditorium on January 30, 2016. (Photo: Dimitrios Kambouris/Getty Images for Turner)
Tremblay later hit The Weinstein Company and Netflix bash after the ceremony, and appeared to hold no hard feelings against Elba.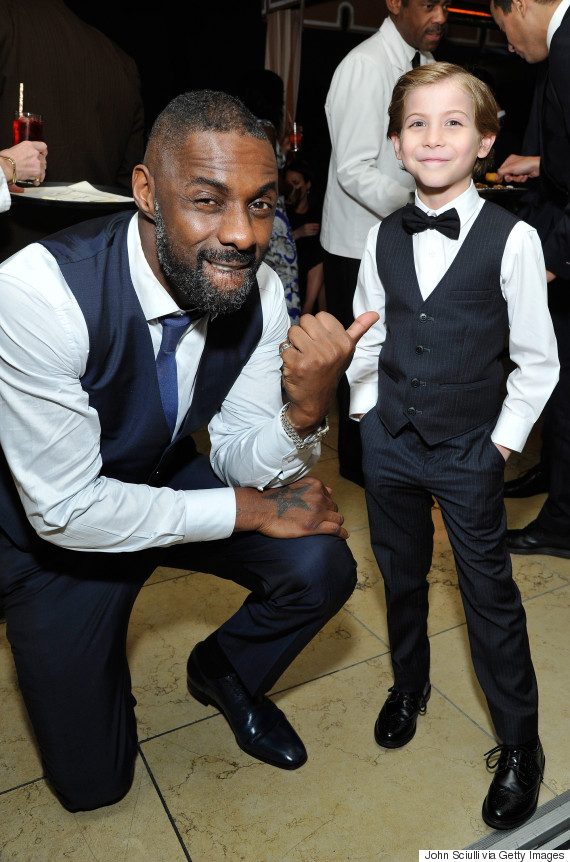 WEST HOLLYWOOD, CA - JANUARY 30: (L-R) Actors Idris Elba and Jacob Tremblay attend the Weinstein Company & Netflix's 2016 SAG after party hosted by Absolut Elyx at Sunset Tower on January 30, 2016. (Photo: John Sciulli/Getty Images for The Weinstein Company)
These photo opportunities will only continue, as Tremblay will have official presenter duties at the Oscars on Feb. 28.
ALSO ON HUFFPOST:
2016 SAG Awards Red Carpet (Photos)