With the millions of people crossing in and out of Alberta each year, officials at the Canada Border Service Agency are bound to find some weird stuff.
Last year, officials executed 256 seizures along Alberta's southern border with the U.S., 1,270 at Calgary's airport and 1,700 in Edmonton, according to the border service agency's year in review.
Here are some of the odd things they found.
Calgary International Airport
Officers seized over 184 packages of narcotics in 2015, and some of those drugs were hidden in creative ways.
In May, officers discovered a hollow, porcelain clown statue filled with cocaine. Officers also opened up a book from Albania to find it had been stuffed with bottles of Rivotril, a tranquilizer considered a controlled substance in Canada.
Detector dog Kodiak made an interesting find in December, when he sniffed out food in a traveller's suitcase: 9.55 kg. of whole raw duck; 6.6 kg. of whole raw chicken; 3.33 kg. of pastrami; 1.77 kg. homemade butter; 92.5 grams of loose seeds; and 750 grams of milk.
The man did not declare any food to agents prior to the search. He ended up paying a $650 penalty for the nearly 50 lbs. of food.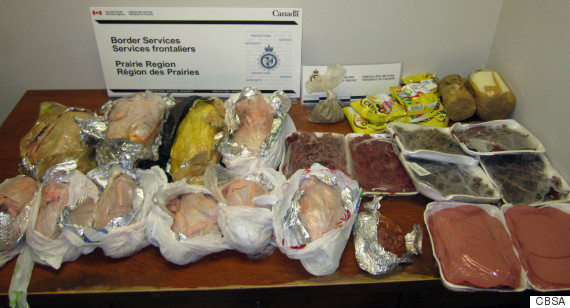 That's one heavy suitcase. (Photo: CBSA)
A number of flyers also attempted to bring weapons into Canada. Blow guns and crossbows were among the items found in 29 seizures.
Edmonton International Airport
Edmonton, similar to Calgary, also saw some odd weapons seizures. Seven weapons were confiscated by officers, among them included nunchuks and throwing stars.
As for bizarre food discoveries, Edmonton's detector dog Max found some interesting packages. From one couple, Max busted a couple who forgot to declare 2.5 kg of swan meat, 5.5 kg of chicken, dried chrysanthemum flowers, ginger root, dried fish, dried fruit and seeds in their carry-on.
Another person attempted to sneak 300 g of pork fat — in their purse.
Officials also discovered when examining a package marked as "replica hippopotamus tusks" that the tusks were actually real.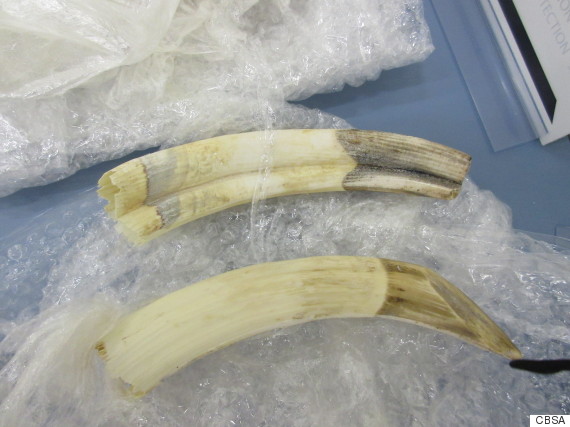 The "replica" hippo tusks seized by border officials have growth marks and discoloration. (Photo: CBSA)
Edmonton officers also confiscated 87 packages of drugs, including ingredients making a date-rape drug and fentanyl.
Southern Alberta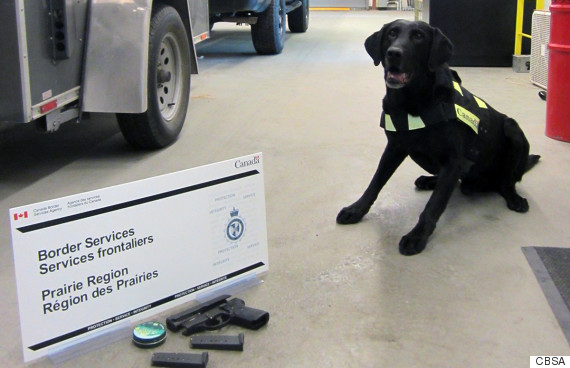 Detector dog Trooper retired in 2015, after helping with over 100 seizures. (Photo: CBSA)
Officials at Alberta's southern border crossings enjoyed a busy year, making over 60 drug seizures. In one case, officers found a bag of marijuana hidden in the base of a potato-chip can with a false bottom.
In another case, officials found three guns hidden under the bed in a trailer. A total of 51 firearms were seized at the border, the biggest weapons haul since 2012.
One unauthorized non-human traveller also managed to sneak back into the States after attempting to sneak into Canada. The traveller, a rattlesnake, slipped into the examination room at the Wild Horse, MT crossing, then slithered back to the U.S. before pest control showed up.
Like Us On Facebook

Follow Us On Twitter

Also on HuffPost: