Groundhog Day gives North Americans hope for an early spring — or grim portents of a longer-lasting winter.
But research around the annual tradition suggests that people shouldn't put much stock in the critters' predictions.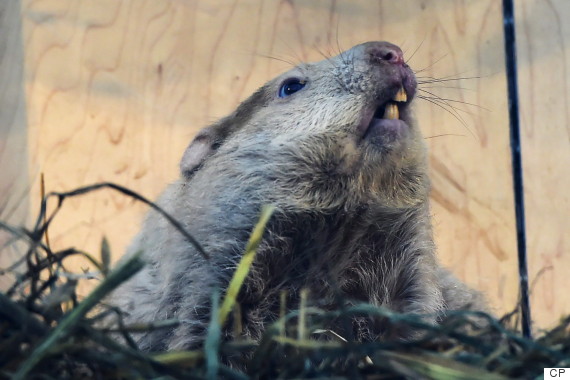 Wiarton Willie looks skyward in order to give us his prognostication on Feb. 2, 2015. (Photo: Frank Gunn/CP)
Every year on Feb. 2, groundhogs in Canada and the U.S. emerge from burrows to help predict the weather for the coming months.
Tradition dictates that if a groundhog sees its shadow, there will be another six weeks of winter. If it doesn't, that means spring is coming early.
Historica Canada cited a study showing that groundhogs such as Ontario's Wiarton Willie and Nova Scotia's Shubenacadie Sam were only correct 37 per cent of the time.
The study looked at weather patterns over many decades in 13 Canadian cities. It found that groundhogs were most likely to provide accurate predictions in Yellowknife, where they were correct 50 per cent of the time.
They were least likely to make correct predictions in Edmonton, at 26 per cent.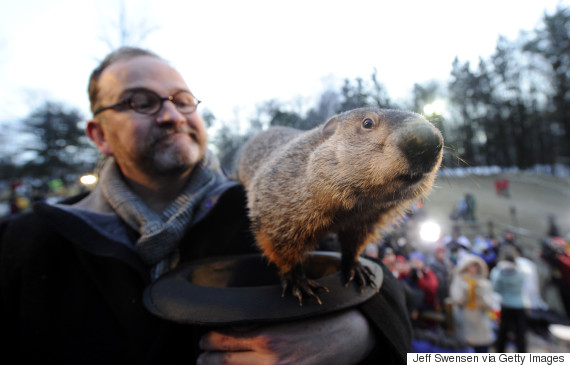 Groundhog handler Ben Hughes watches Punxsutawney Phil after he did not see his shadow predicting an early spring during the 125th annual Groundhog Day festivities on Feb. 2, 2011 in Punxsutawney, Pa. (Photo: Jeff Swensen/Getty Images)
Plenty of study has also been devoted to Punxsutawney Phil, the creature at the centre of a popular Groundhog Day celebration in Pennsylvania.
Last year, data analysts at The Washington Post plugged the numbers around daily average temperatures across the United States in the six weeks following Groundhog Day from 1984 to 2014.
They looked at temperatures in years when Phil saw his shadow and compared them against ones in which he didn't.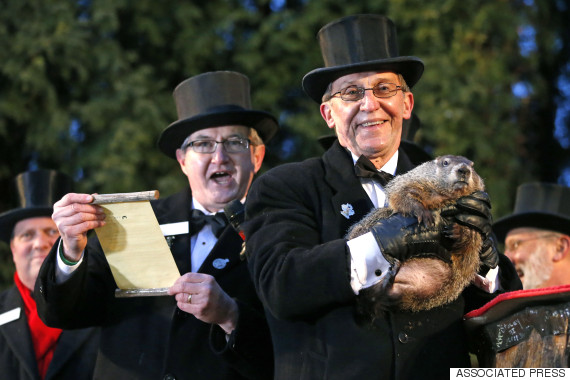 Groundhog Club handler Ron Ploucha, right, holds Punxsutawney Phil, the weather prognosticating groundhog, as Jeff Lundy, left, reads Phil's weather proclamation of six-more weeks of winter during the 129th celebration of Groundhog Day on Gobbler's Knob in Punxsutawney, Pa. on Feb. 2, 2015. (Photo: Gene. J Puskar/AP)
The researchers found that Phil was "technically right more times than not in some cities," but noted that "the average temperatures between shadow and non-shadow years were slight at best."
In other words, don't let a groundhog tell you when you can put your shorts on for the first time.
Like Us On Facebook

Follow Us On Twitter

Also on HuffPost