CP
HAMILTON — The accused killers of a Hamilton man who disappeared after leaving home with two strangers for a test drive of his pickup truck first shot their victim and then burned his remains, their trial heard Monday.
Dellen Millard, of Toronto, and Mark Smich, from Oakville, Ont., have both pleaded not guilty to first-degree murder in the death of Tim Bosma.
The 32-year-old Bosma left his home on the evening of May 6, 2013 and was never seen alive again. Police found his body more than a week later "burned beyond recognition."
In his opening statement, Crown attorney Craig Fraser said Millard and Smich shot Bosma in the truck before burning his remains in an incinerator outside an airport hangar owned by Millard, who is the heir to an aviation business — Millardair — started by his grandfather nearly 50 years ago.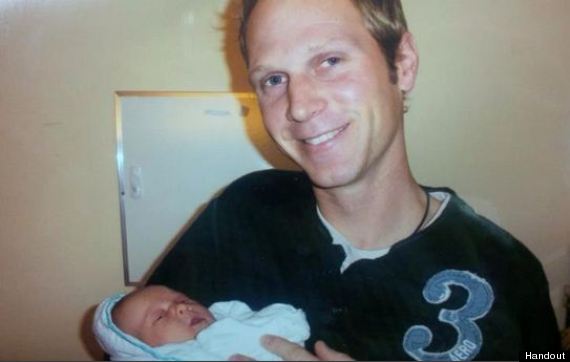 Bosma was 32 years old at the time of his death and left behind a young daughter. (Handout)
"Tim Bosma was killed in his truck, shot by the two accused in close range while on a test drive. His body was incinerated hours later by the two accused," Fraser said.
Fraser said police found the pickup truck at the home of Millard's mother in Kleinburg, Ont., with the seats and cushions ripped out, and those seats were burned as well.
Police found gunshot residue as well as Bosma's blood both inside and outside the vehicle, Fraser said, adding that police later found some of Bosma's bones inside the incinerator. Fraser said Millard's fingerprints were found throughout Bosma's truck along with a shell casing from a bullet.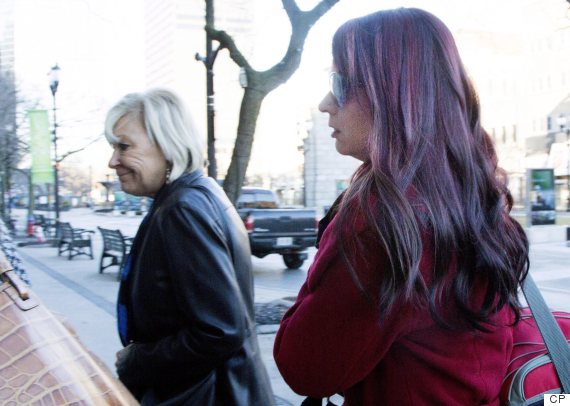 Sharlene Bosma, in red coat, the widow of Tim Bosma, arrives at the John Sopinka Courthouse in Hamilton, Ontario, on Feb. 1, 2016. (Peter Power/The Canadian Press)
He also said police found the keys to Bosma's truck in Millard's car when the aviation heir was arrested.
Fraser said a man, whom the Crown intends to prove was Millard, phoned Bosma two days before the test drive on May 4. He said the same man also phoned three others to try to arrange to test drive a similar pickup truck.
Fraser also said that in a statement Smich's girlfriend gave to police, she said that her boyfriend told her the man they stole the truck from was "gone, gone, gone."
The Crown intends to present video that shows Millard and Smich firing up the incinerator outside the hangar in the early hours of May 7.
'No one goes to the hangar today'
In a text sent to Millardair employees, Millard wrote: "Airport politics. No one goes to the hangar today, not even just to grab something," Fraser said.
"Employees did as they were told to do," Fraser said. "However, when they returned to work the following day, one employee saw a black pickup truck in the hangar that he believed could have been Tim Bosma's."
This employee, Fraser said, "knew about Bosma from the news," so he took photos of the vehicle identification number and sent it to Crimestoppers. They matched Bosma's truck, he said.
Millard's girlfriend will testify that she helped him move the incinerator to a stand of trees on his farm near Waterloo, Ont., the Crown lawyer said.
The girlfriend, who has been charged with accessory after the fact in relation to the case and will be tried separately, will testify that she was with Millard when he drove to his mother's home in Kleinburg with the truck inside a trailer he was towing.
Fraser said police also seized letters from Millard's girlfriend, written by Millard from jail after his arrest, that asked her to persuade one of his friends to change the information given to police.
That friend, Fraser said, will testify that he heard both Millard and Smich planning to steal a truck.
Earlier in the day, Justice Andrew Goodman spoke to the jury, composed of seven men and seven women, about the trial that is expected to last up to four months.
Massive police response
"You do not have to make the same decision for each person," Goodman said of the two accused.
The search for Bosma — who left behind his wife a and a young daughter — was massive, with more than 150 police officers from several regions in southern Ontario taking part.
Police have said they believe Bosma was killed shortly after he disappeared.
Millard was arrested on May 10 and originally charged with forcible confinement and theft of a vehicle. Smich was arrested 12 days later.
Both were charged with first-degree murder after Bosma's body was found.
Also On HuffPost: