Generations of indigenous people were taught to be quiet.
In residential school, staffers would stick needles in the tongues of students who spoke their language, or who opened up about abuse. And that pain lingers with former students who, even today, can't speak up about their experiences.
But Mary Black is sick of the silence. The 23-year-old Ojibwe actress and resource worker from Winnipeg has penned a slam poem, "Quiet," in which she refuses to remain mute about the struggles of indigenous women.
It was posted to her account in October, but its reach has grown to more than 100,000 views in recent days.
Spoken Word/Slam Poetry "QUIET" by Mary BlackOn being a Silent Indigenous woman in Canada and the struggles our First Nations communities face.

Posted by Mary Black on Monday, 12 October 2015
The poem, which was written in less than an hour, is performed simply — it's just Black sitting in front of a camera.
But she delivers it with a powerful voice that alternates between quiet intensity and outright anger.
It begins with her saying, "I will not be quiet," and then expands on the suffering of indigenous women.
"Why are 75 per cent of us raped? Why are our houses constantly surrounded by yellow tape?" she intones in one passage.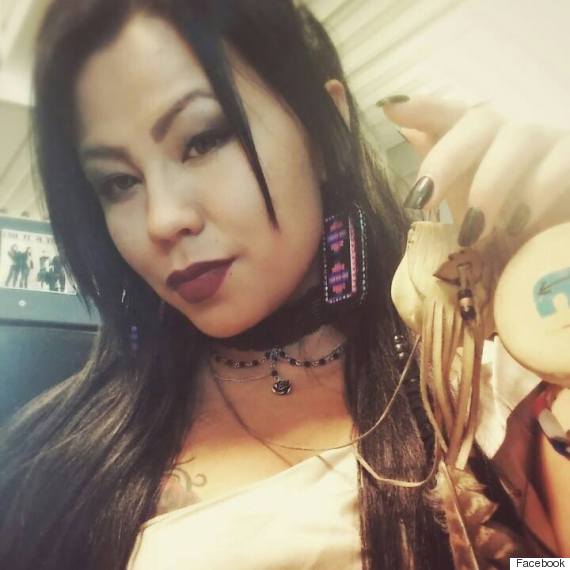 Mary Black (Photo: Facebook)
Black was inspired to write "Quiet" after seeing reports of spousal violence within Winnipeg — stories about domestic abuse, about women being killed by their ex-partners, she told The Huffington Post Canada.
"It made me so angry to be living in such a violent world," Black said.
And she was inspired even further when she thought about how many indigenous people have been taught to be silent.
"It's a disease to me, to be quiet," Black said. "You see it in the communities, on the reserves, in families and stuff, where if somebody's abused, people will tell them not to talk about it. You don't want to shame the family or cause problems."
"It's a disease, to me, to be quiet."
It's a silence that came from residential school, she said. And it has stopped people from being able to face their abusers today.
"I think our generation is the first that can break this cycle because there's so much to deal with," she said.
"To me, speaking is the only medicine that can cure our souls, because we've been so plagued by this silence and this heavy weight."
Black said "Quiet" marks the first time that she wrote a piece that was completely her own voice. And she's been floored with the support it has received.
People who have suffered abuse themselves have shared the poem, recounting their own experiences for the first time.
She will deliver the poem at "Stolen Sisters," a series of monologues being performed as part of International Women's Week, in March.
The program, which will take place at the University of Winnipeg's Asper Centre for Theatre and Film, will focus on the subject of gender-based violence.
But "Quiet" isn't Black's only poem.
In late January she posted her work "Delicious Slavery" to Facebook.
"DELICIOUS SLAVERY" by Mary BlackSpoken Word/Slam PoetryWritten for anybody who understands what it is to give every fibre of your Being, your Soul, your Heart & your Consciousness to the One you Love.Dedicated to My Loving Husband, Gabriel Guiboche on our journey we have walked together and for every experience yet to come. ❤

Posted by Mary Black on Thursday, 21 January 2016
Black's words come as the federal government establishes an inquiry into missing and murdered indigenous women.
The government is currently engaged in consultations with various communities before the inquiry begins its work.
Missing and murdered indigenous woman another issue that Black said people have been silent on for so long. And she's amazed it's being talked about at this level.
"I don't like to make assumptions, but so far what I see is amazing progress with our people, and I have a lot of hope," she said.
"I really hope that we see a time of peace and we get some answers.
Like Us On Facebook

Follow Us On Twitter

Also on HuffPost:
11 Facts About Canada's First Nations