A war of words between two Canadian media giants continued Monday, as Postmedia refuted a Toronto Star columnist's claim that the company is "a cancer in Canadian journalism."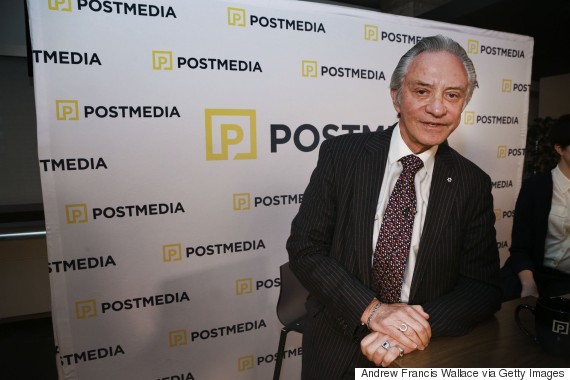 Paul Godfrey at Postmedia office on March 25, 2015. (Andrew Francis Wallace/Toronto Star via Getty Images)
A memo -- firing back at writer David Olive, whose editorial was published on the front page of Saturday's Toronto Star -- was sent to Postmedia staff by CEO and President Paul Godfrey. It was later published on the website J-Source.
In a piece called "The problem with Postmedia," Olive slammed the media conglomerate's financial structure, saying the company, which owns more than 200 Canadian media outlets including the National Post, is too foreign-owned.
"The good news is that the Postmedia abomination, which has never turned a profit, is in such wretched condition that it's not long for this world," he wrote.
In response, Godfrey threw a personal attack at Torstar chair John Honderich.
Godfrey wrote that Honderich's father Beland, who is a former chairman and publisher of Torstar, "would have frowned upon the type of journalism printed in the Star on Saturday."
"The good news is that the Postmedia abomination, which has never turned a profit, is in such wretched condition that it's not long for this world."
Godfrey wasn't the only one at Postmedia to come out swinging against Torstar, which owns 110 newspapers in Canada, including the Toronto Star.
National Post comment section editor Matt Gurney also published an editorial Monday, in which he cited Torstar's financial grievances. Gurney urged Olive to apply some of his financial advice to his own employer.
"I won't spend much time on these [proposed solutions]. All have merit as proposals, all also have drawbacks. None are what Olive's own TorStar conglomerate is trying."
Twitter users took note as the two companies threw punches at each other through their publications.
How I feel about the Postmedia/Torstar war of words pic.twitter.com/oFyP686fv7

— Joel Eastwood (@JoelEastwood) February 1, 2016
Postmedia is a 'cancer,' Torstar? Go tell that to Guelph https://t.co/NikUTt7hFC A fine counterpoint to the Star's usual sanctimony.

— Chris Boutet (@chrisboutet) February 1, 2016
Several members of the media poked fun at their exchange.
if only postmedia and torstar understood that the only reason they're fighting ***is because they can't admit that they're in love***

— Scaachi (@Scaachi) February 1, 2016
postmedia v torstar pic.twitter.com/4NmgZc6OGS

— Alison Mah (@alisonmah) February 1, 2016
This isn't the first time Torstar and Postmedia have used fighting words against each other.
Last month, Godfrey urged The Star to scrap its tablet edition, which elicited a fiery response from Honderich via an editorial titled "Paul Godfrey, get your facts straight."
Both Postmedia and Torstar have recently announced layoffs amid financial strains that are also impacting the broader Canadian media industry.
Also on HuffPost
Trudeau Newspaper Front Pages