Roberto Machado Noa via Getty Images
That winter escape vacation you've been thinking about skipping this year may be affordable after all, sliding loonie or not.
Airfares in Canada have fallen over the past year, according to research from Hopper, an airfare comparison app. Domestic flights are 7.3 per cent less expensive than a year earlier, while international flights are 5 per cent less expensive.
"Much of this drop can be attributed to this year's dramatic decline in oil prices," Hopper said on its blog.
The average airfare in Canada was $508 in January, 2016. Hopper estimates.
Prices are coming down not only due to lower prices for jet fuel but "due to increased competition … and airlines moving into branded, unbundled ticketing with lower base fares and optional fees (such as checked bags)."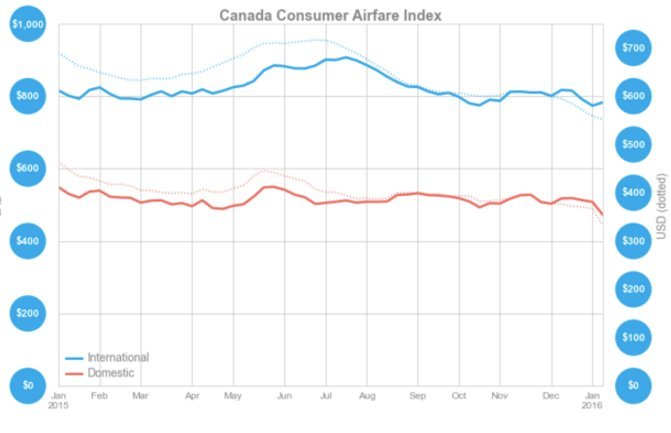 Airfares in Canada spiked last summer, but are now lower than they were a year ago. Blue line = international fares, red line = domestic. Dotted lines = Canadian airfares in U.S. dollars terms. (Chart: Hopper)
Hopper, which claims it can predict air ticket price changes with 95 per cent accuracy, says the trend will continue.
Lower energy costs have boosted travel. WestJet reported this week it carried a record number of passengers in January, 2016, up 7.4 per cent from the same month a year earlier.
The airline noted that, as the Canadian dollar fell, Canadian travel to the U.S. declined. But that was offset by more U.S. travelers heading to Canada.
Perhaps ironically, the increase in travel hasn't necessarily boosted airlines' earnings. WestJet posted a 30-per-cent decline in profit for the fourth quarter. Nearly half of that drop — about $10.1 million — was due to exchange rate fluctuations, the airline said.
The low loonie is keeping Canadians away from sunny-weather destinations in the U.S., and some places are taking steps to lure them back.
In the South Carolina resort town of Myrtle Beach, many businesses are accepting the Canadian dollar at par.
So there may yet be some bargains to be had for fun in the sun this winter season.
The 10 Best Coach-Class Airlines in the World