You could make a bunch of different dishes for the Super Bowl this Sunday.
Or you could make one epic snack that will feed a party of 20 people.
Bon Appétit Magazine released a Facebook video Thursday that showed the process of creating a 50-ingredient, 66-pound plate of nachos.
Yes, really. Sixty-six pounds of nacho goodness.
The dish, which took 36 hours to prepare, had 12 sub-layers with two kinds of chip and five varieties of cheese.
Other ingredients? Ground beef, buffalo pulled turkey, pork rinds, carrots, radishes, oregano, pinto beans, tortilla shells with melted cheese, $100-worth of brisket, and ... well, plenty more.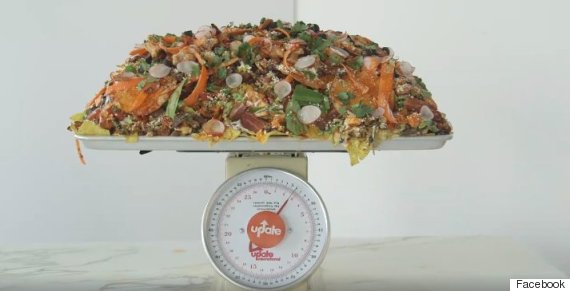 Bon Appétit concocted the snack after being challenged by Epicurious, a fellow Conde Nast publication.
Epicurious food director Rhoda Boone offered a step-by-step guide to making multilayered nachos on that mag's website.
You know, if your heart can take the pressure.
Like Us On Facebook

Follow Us On Twitter

Also on HuffPost: