If you thought fluffy Chow Chows couldn't get any cuter, you would be wrong. Panda Chow Chows take the cuteness to a whole other level.
Chinese businesswoman Meng Jiang has launched a new venture involving a photoshoot with her three Chow Chows, dyed to look like Giant Panda bears.
While it's hard to deny the dogs look adorable, many can't help but question if the cosmetic procedure is cruel to the young pups.
Since the dogs' photos were posted on January 29 by Jiang's husband, stock trader Anton Kreil, there have been a mix of positive and negative comments regarding the well-being of the dogs on the post.
According to the Panda Chow Chows website, the dogs — who started out pure white — were dyed with a non-bleaching, non-chemical and non-toxic product that has been approved for use in Singapore on dogs.
But when the Panda Dog trend first took off in China in 2014, famed dog trainer Caesar Milan opposed the idea, saying that hair dye and dogs don't mix. According to Milan, there has not been enough testing to ensure there are no long-term effects from dying a dog's fur.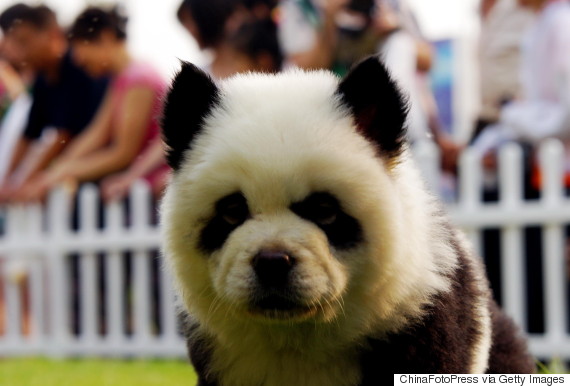 And some experts say your dog's skin might also be put at risk. According to Pet MD, the pH levels of dogs' skin are different from humans, so using organic products that are safe for humans might still be a problem for pets.
Jiang insists her dogs are happy with the treatment (which is believed to take up to two hours to complete) and told Channel News Asia that most online critics are hypocrites.
"Let's get some proportionality here: Being cruel to a dog is locking it up all day so it gets no exercise, starving a dog to death, not cleaning up after it and letting it live in its own filth; being cruel to a dog is beating it, not dyeing your dog with 100 per cent organic product," Jiang said.
Are you in favour of dying your dog's fur or do you think this trend needs to die? Let us know in the comments below.
Also on HuffPost