"All of this is happening because of corrupt politics and f***ing greed. And it has to stop."
Politicians are to blame for the water crisis faced by Flint, Mich. — and the rest of the United States, Erin Brockovich told Bill Maher on Friday.
"We are having a national water crisis in this country," the famous environmental activist and lawyer said. "I can't keep up with where the Flint's are happening."
Flint is just one of more than 1,000 cities with contaminated water, Brockovich said.
The Michigan city of just under 100,000 people has dominated headlines in recent weeks. Residents were drinking water with dangerously high levels of lead for years before officials did anything about it.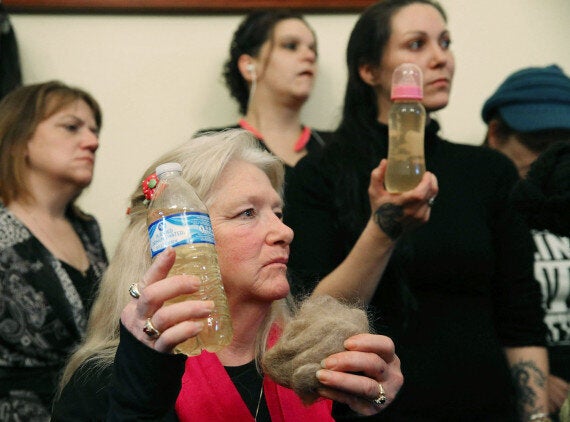 Flint resident Gladyes Williamson holds a bottle full of contaminated water, and a clump of her hair, alongside Jessica Owens holding a baby bottle full of contaminated water, during a news conference after attending a committee hearing on the Flint, Mich. water crisis on Capitol Hill Feb. 3, 2016 in Washington, DC. (Photo: Mark Wilson/Getty Images)
In April 2014, the city switched water sources to save money, the Guardian reported. But the water from Flint River, the city's new source, was corrosive and wore away at the city's lead pipes.
In Canada, unsafe drinking water is a familiar problem for the indigenous population. Currently, there are water advisories in place for 92 First Nations communities across the country. The Neskantaga First Nation in Ontario has been under a boil water advisory for 20 years. Last year, a CBC investigation found that since 2005, water advisories had been issued for two-thirds of all First Nations communities in the country.
Experts have estimated that about 10 per cent of all Canadians are at risk of consuming lead through their drinking water. About 60,000 households in cities across the country still use drinking water that comes from lead pipes, Canadian Water Network researcher Graham Gagnon estimated. And the municipalities can't afford to replace the infrastructure, Gagnon said. "Knowing some of these cities, they would be challenged to really take this on."
See Maher's interview with Brockovich below.
with files from the Canadian Press