Move over, Taylor Swift. There's a new squad in town (or more specifically, at the Super Bowl).
During the Super Bowl 50 halftime show in Santa Clara, Calif., Bruno Mars hit the stage, along with British DJ Mark Ronson and Bruno's squad of backup dancers, to not only perform their smash hit "Uptown Funk," but challenge Beyoncé to one major dance battle. All while sporting Versace.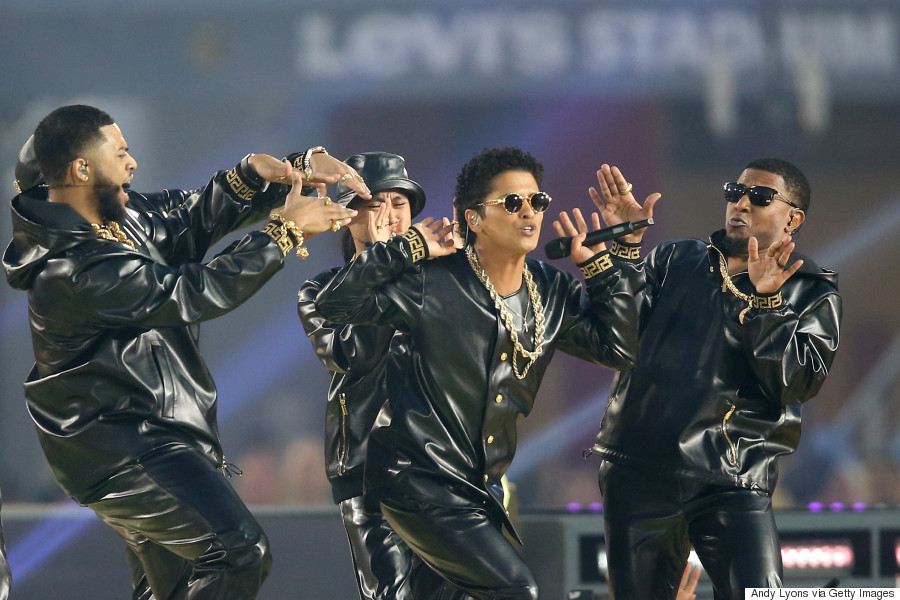 In a statement released by the Italian fashion house, the "Locked Out of Heaven" crooner opted for a "black leather-like liquid effect pant and a matching black liquid effect baseball-style shirt with gold Medusa buttons and gold Greek key detailing at the wrist," for his dance off and live remix battle with Queen Bey, who wore custom DSQUARED2, and Chris Martin, who has yet to confirm what he and his band mates wore for their headlining gig (we do know, however, that he sported custom Air Jordan sneakers designed by 9-year-old son, Moses).
To accessorize the leather look, Mars and his group sported a variety of gold Versace chains and super chic sunglasses that screamed "'90s." His crew all sported Nike kicks and one dancer in particular rocked a bucket hat.
But also, @BrunoMars. #CrushedIt #SB50 pic.twitter.com/f20Zr8X5tW

— InStyle (@InStyle) February 8, 2016
So old school.
The look was met with mixed reactions on Twitter, with many calling the Versace ensemble "pajamas."
I need to find out where Bruno Mars got those Versace leather pajamas...

— Stephen Hua (@stephenhua) February 8, 2016
Bruno Mars out here performing in Morpheus from the Matrix pajamas

— Victor Pope Jr (@VictorPopeJr) February 8, 2016
I can't tell if Bruno Mars is getting ready for bed or if he's the 4th member of Migos with those leather pajamas and chains on b. CLEAN!

— VI Seconds (@visecs) February 8, 2016
I like Bruno Mars' leather pajamas.
They say, I wanna comfortable, but I also like #HarleyDavidson #SB50

— Ben Sasse (@BenSasse) February 8, 2016
Shade thrown.
Some asked if Bruno was trying to channel his inner Run DMC.
Bruno Mars wanna be in Run DMC so bad pic.twitter.com/ynd7ZUkgqC

— Hayden (@hfriday17) February 8, 2016
Mars, who is no stranger to the Super Bowl, performed as headliner back in 2014 in a gold Saint Laurent jacket that we'll probably never forget for as long as we live.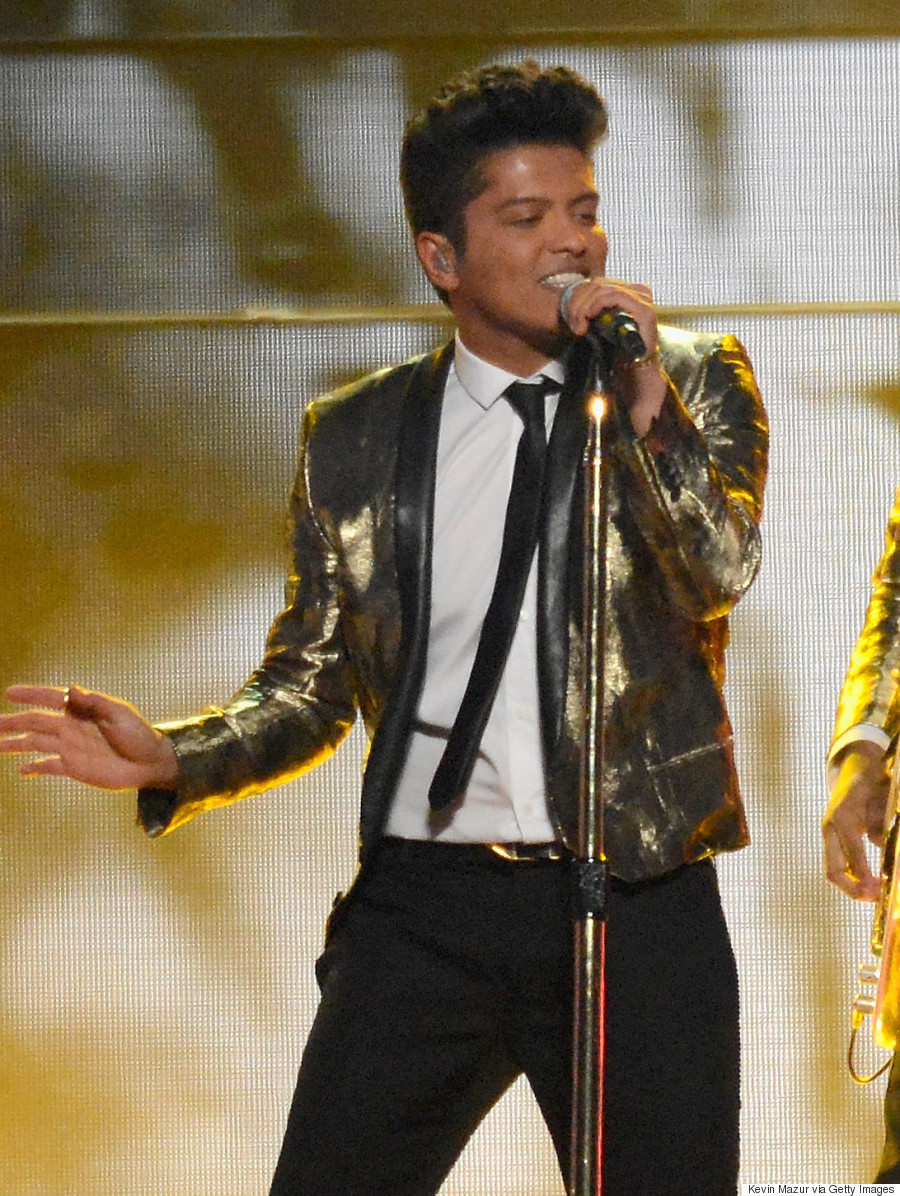 Bust that move, Bruno!
Bruno MarsばりVersaceかっこよくきすぎ。
Mew終わったらSuper Bowlゆっくり見よ👀 pic.twitter.com/BcAstR6DPT

— Az♕ (@Azu_Monroe) February 8, 2016
Follow Huffington Post Canada Style on Pinterest, Facebook and Twitter!
Also on HuffPost
Super Bowl 50 Halftime Show: Beyonce, Bruno Mars, Coldplay