In what may be one of the unluckiest deaths in human history, an Indian man was killed by an explosion that may turn out to be caused by a meteorite.
P. K. Senthil Kumari, the police chief in Vellore, Tamil Nadu told CNN that an object hit the ground at an engineering college, causing a loud explosion and created a crater more than half a metre deep in the ground.
A 40-year-old bus driver named Kamaraj was walking past the building when the blast happened, according to local media reports. He suffered serious injuries and died en route to the hospital, reported Reuters. Three others were also hurt.
'No fire, nothing'
College principal G. Baskar told Reuters he'd never heard a sound like that before.
"There was no smell at all, no fire, nothing," he said.
Kumari said a scientist from the Indian Institute of Astrophysics will be analyzing debris to determine whether the fallen object was space debris or an actual meteorite.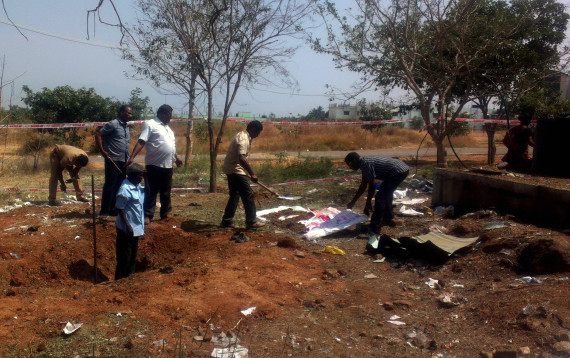 The impact of the object left a large crater in the ground and shattered window panes in a nearby building. (Photo: AFP/Getty Images)
It's unclear whether Kamaraj would be the first person to have ever died from a meteorite.
Researchers are skeptical of rare early reports of deaths caused by meteorites, according to a HuffPost blog by former astronomer Sten Odenwald. But even if they're all true, the odds of being killed by one are one in 250 million.
In 2013, meteorites injured hundreds of people in Russia, but no deaths were reported.
Also on HuffPost