WINNIPEG — Indigenous Affairs Minister Carolyn Bennett met with the families of missing and murdered aboriginal women in Winnipeg on Monday and said she noticed a different tone from similar meetings in other cities.
"Today we heard many things a little bit different than other places," Bennett said halfway through the day-long meeting.
"Here in Winnipeg, there seems to be tremendous anger and cynicism. People are concerned about the police. They're concerned about the government. And ... they were quite skeptical as to whether an inquiry will help at all."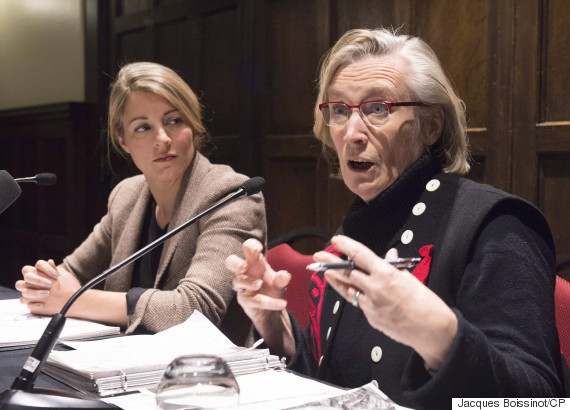 Indigenous Affairs Minister Carolyn Bennett, right, speaks to reporters in Quebec City as Heritage Minister Melanie Joly looks on. (Photo: Jacques Boissinot/CP)
Bennett is on a cross-country tour to meet with victims' families and other interested parties so parameters can be set for an inquiry into missing and murdered aboriginal women that is expected to begin by summer.
Bennett referred to the Manitoba capital as ground zero in the growing awareness Canadians have for the plight of aboriginal women. She cited the 2014 death of Tina Fontaine, 15, whose body was put in a bag and dumped into the Red River, and a near-fatal attack on a 16-year-old girl who was brutally beaten while she walked along the Assiniboine River.
Bennett met with about 170 people in a private gathering closed to the media. Willie Starr — whose sister Jennifer Catcheway disappeared from Portage la Prairie, Man., in 2008 — said there was a lot of tension in the room.
"There's a lot of pain and hurt that people have been carrying for decades in some cases," Starr said.
He and his family tried to report the 18-year-old Catcheway as missing immediately, but they were brushed off by RCMP, he said.
"They told us that she was out on a drunk, come back in a week ... and that's a crucial time to investigate on a case."
Starr said he would like the inquiry to address how police handle complaints about missing indigenous women and how much support can be offered to families looking for a missing relative. He'd also like a greater understanding of poverty, racism and other issues.
Bennett said there were other concerns raised, too, such as stereotypes of indigenous persons in the media.
She said it will be a challenge to determine the scope and mandate of the inquiry, since it must focus on key issues, but also be broad enough to address concerns of victims' families.
"We will need to work through what is that right balance (between) way too broad and way too narrow."
Also on HuffPost
REDress Project For Missing, Murdered Indigenous Women