While we all agreed that contouring would be something we would leave behind in 2015, clearly someone didn't get the memo because promises have been broken. In a major way. On Instagram.
That's right, contouring is alive and well with its newest form of the technique...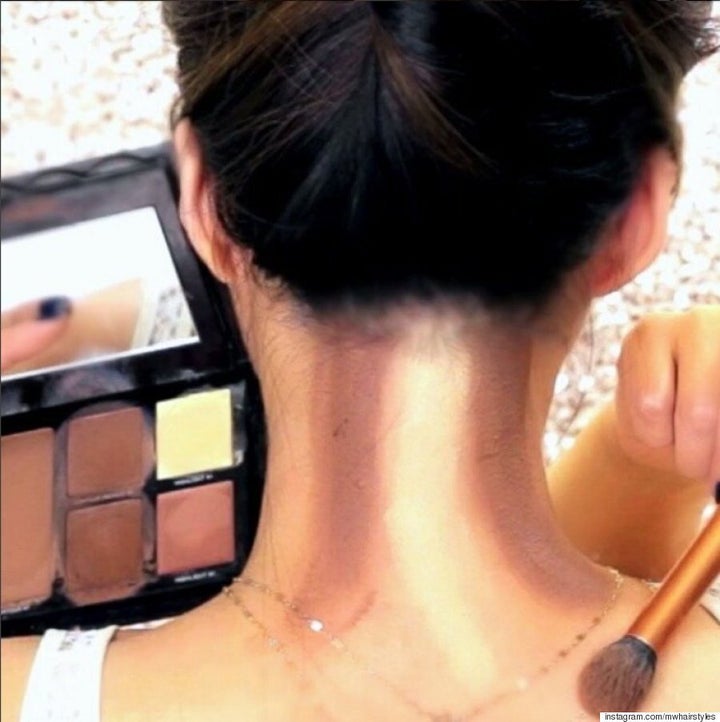 The team at Teen Vogue stumbled upon a neck contour hack, promising "slimmer" and more "graceful" necks "to compliment your updo." Contouring, which sculpts your defying lines to perfection, came to fame last year in thanks to the likes of Kim Kardashian and other celebs with perfectly-sculpted cheekbones. But this time around, it's not the cheeks that we're painting to look slimmer, it's the neck.
The 15-second Instagram shows the vlogger taking a dark shade and running it down the left and right sides of the back of her neck. She then dabs a shimmer down the middle. And then she blends.
Sure, her neck looks slightly slimmer, but do we really need this form of contouring in our beauty routines? Not really, tbh. Firstly, you can't see what your application looks like when applying to the neck — this just makes things messy and awkward. Secondly, does every detail of our bodies need to be perfected with makeup? We say no.
Here's to hoping neck contouring doesn't stay around for too long. Bye.