As a debate looms over Canada's role in the fight against the so-called Islamic State, Prime Minister Justin Trudeau is already cautioning against "over-the-top" rhetoric that he says only elevates the terrorist group.
That message, delivered at a press conference in Ottawa Monday, is similar to one U.S. President Barack Obama shared in his final State of the Union last month that spurred criticisms he was downplaying the ISIS threat.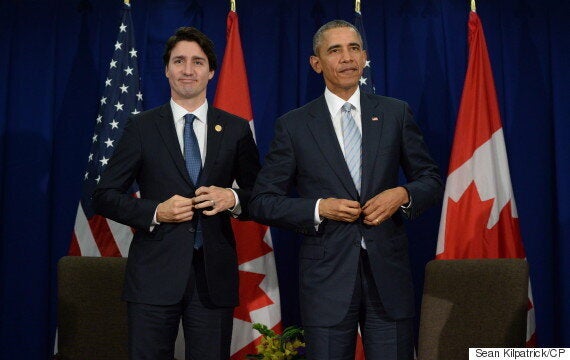 Prime Minister Justin Trudeau and U.S. President Barack Obama meet at the APEC summit in Manila in November 2015. (Photo: Sean Kilpatrick/Canadian Press)
With key cabinet ministers by his side, Trudeau warned against heated bombast when it comes to the group.
"ISIL would like us to see them as a credible threat to our way of life and to our civilization," he said. "We know Canada is stronger — much stronger — than the threat posed by a murderous gang of thugs who are terrorizing some of the most vulnerable people on Earth."
The prime minister added leaders should take care not to do "precisely" what enemies want.
"ISIL would like us to see them as a credible threat to our way of life and to our civilization."
"They want us to elevate them, to give into fear, to indulge in hatred, to eye one another with suspicion and to take leave of our faculties," he said. "The lethal enemy of barbarism isn't hatred. It's reason. "
Trudeau said his government's approach will be centred on what's effective, not what feels good to say.
"Terrorists do not have the strength to defeat us, so they seek to have us defeat ourselves," he said.
Ambrose: ISIS 'the worst terrorist threat in the world'
But at a press conference responding to Trudeau's plan, interim Conservative Leader Rona Ambrose painted a slightly different picture of ISIS than that of "thugs." She called them "the worst terrorist threat in the world" and said it was shameful that Canada will soon stop the bombing mission.
"If (Trudeau) doesn't think that we should use our military against this group, I don't know when he thinks we would ever use our military,'' she said.
In a statement to media, Ambrose also called ISIS the greatest global terror threat. She said "ISIS and ISIS-inspired attacks" have spread beyond the combat theatre to claim Canadian lives.
"Halting and degrading ISIS is more critical than ever to keep people safe," she said in the release.
Obama: ISIL not a threat to U.S. existence
In his speech to congress last month, Obama conceded the terror group was a "direct threat" to Americans because even a "handful of terrorists" with no value on human life can wreak havoc.
"But as we focus on destroying ISIL, over-the-top claims that this is World War III just play into their hands," he said.
"Twisted souls plotting in apartments or garages" are dangerous, Obama said, but not a threat to the country's existence.
"That is the story ISIL wants to tell," he continued. "That's the kind of propaganda they use to recruit. We don't need to build them up to show that we're serious, nor do we need to push away vital allies in this fight by echoing the lie that ISIL is representative of one of the world's largest religion."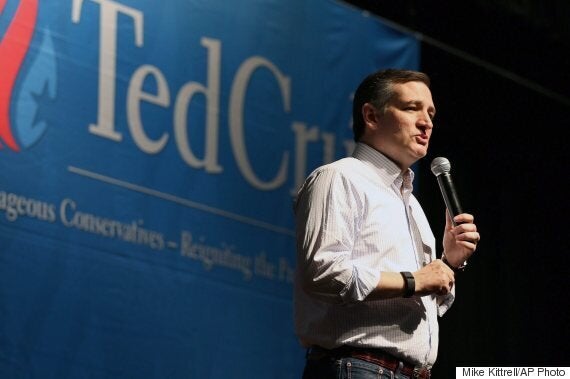 Republican presidential candidate Sen. Ted Cruz speaks to supporters in Alabama. (Photo: Mike Kittrell/Associated Press)
Obama's words packed a punch in light of the U.S. presidential race, in which numerous Republican candidates are talking tough.
GOP front-runner Donald Trump told ABC News Sunday that he would do "a hell of a lot worse" than waterboarding to stop ISIS.
"We're like living in medieval times," he said.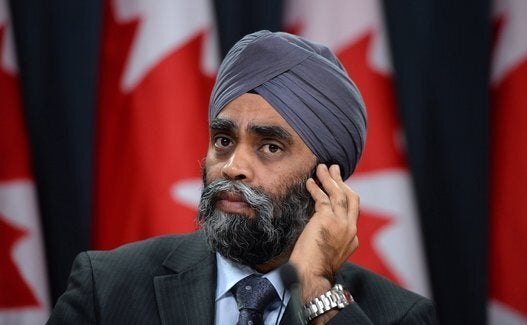 Current MPs With Military Experience (2016)