Prime Minister Justin Trudeau has taken a page from his predecessor by announcing that Canada's new mission against the so-called Islamic State will face a debate and vote in Parliament next week.
Such a step mirrors the approach of former prime minister Stephen Harper, who typically sought out the support of MPs before deploying the military. He continued the practice after he captured a majority government in 2011.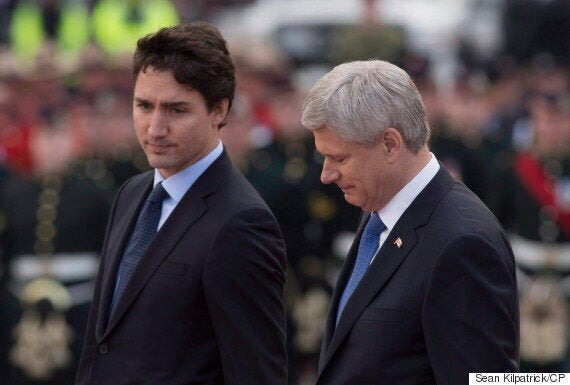 Prime Minister Justin Trudeau and former prime minister Stephen Harper walk together at a ceremony marking the Parliament Hill attack in October 2015. (Photo: Sean Kilpatrick/Canadian Press)
There is no constitutional requirement for a prime minister and the cabinet to seek the approval of the House of Commons in such a way — a fact Trudeau acknowledged at a press conference in Ottawa Monday.
"As we all know, military matters are the prerogative of the executive but I believe in Parliament and I believe in the value of robust and informed debate to express Canadians' views on issues of such import as this," Trudeau said. "And I look forward to bringing this forward to debate and a vote."
A tweet from Trudeau's account, however, only mentioned a parliamentary debate.
Kate Purchase, Trudeau's director of communications, confirmed in an email to The Huffington Post Canada that "while this is an executive decision," a motion will be brought to Parliament next week and MPs will be asked to vote on it.
NDP defence critic Randall Garrison twice pressed the Liberals in the House last week to hold a debate and vote on the government's mission in Iraq and Syria.
"The very clear choice was to give this government a mandate to refashion that mission."

— John McKay
Liberal MP John McKay, the parliamentary secretary to the minister of national defence, cheekily "reminded" the New Democrat that Canadians had their say in the last federal election.
"In the election, the prime minister's position was very clear. The position of the former prime minister was very clear, and Canadians made a very clear choice," McKay said. "The very clear choice was to give this government a mandate to refashion that mission."
Trudeau voted against sending Canada's CF-18 fighter jets to Iraq in October 2014, and voted against extending the mission to Syria in March 2015. But both of those motions only called on MPs to "support the government's decision" on those missions.
With eyes on the election, Tories also pointed to Trudeau's votes against the mission as proof that he was weak on security and terrorism.
The plan Trudeau unveiled Monday calls for the CF-18 airstrikes to end by Feb. 22, with a shift in focus to expanding the training of local security forces. The size of Canada's "train, advise, and assist" mission is set to triple.
Interim Tory Leader Rona Ambrose has already accused the new Trudeau government of failing to explain why it is ending the airstrikes.
And in perhaps a preview of looming debates on the mission, Ambrose released a statement saying the Liberals' plan conflicts with Trudeau's commitment to diversity:
"There is nothing that threatens diversity more than ISIS — whether it is the rights of women, cultural and religious freedoms, or the rights of gays and lesbians.

"When our friends and allies are attacked, when our values are threatened, when human rights are trampled, and human dignity is crushed, it is our fight.

Taking this fight to the enemy is part of a proud Canadian military history, one which the Prime Minister has repudiated with today's decision."
With a file from The Canadian Press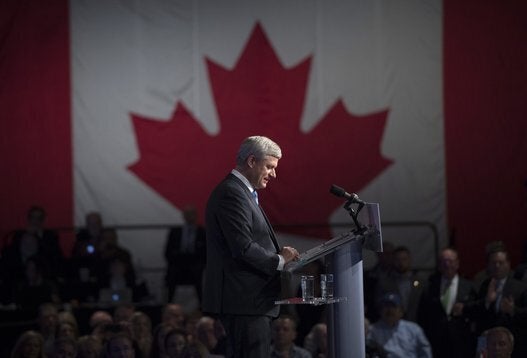 Harper's Legacy: Top Achievements, Failures, According To Poll