After a tragic crane collapse in New York City last week, one firefighter stepped in to help a couple in need.
Nesh Pillay, from Toronto, was in a nearby salon getting her hair done for her wedding when a 565-foot construction crane collapsed, killing one man on Friday, reports the Guardian.
Pillay, 25, who was supposed to get married to her now-husband Aaron Vanderhoff, 27, at Manhattan's city hall that afternoon, was escorted out of the salon by firefighters towards Manhattan's Tweed Courthouse. She had fortunately brought her dress into the salon with her.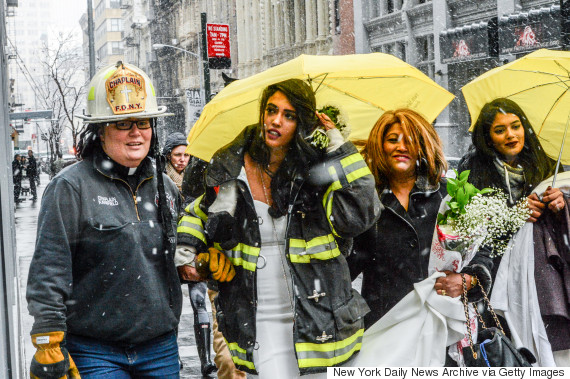 Bride-to-be- Nesh Pillay, 25, is assisted by FDNY Chaplain Rev. Ann Kansfield after a crane collapsed near the beauty salon where she was having her hair done in downtown Manhattan in New York February 5, 2016.
"Along the way, I told her [the firefighter] I was concerned about time," Pillay told the Toronto Sun. "She said 'I'm a chaplain, I could marry you.'"
New York-based wedding photographer Mariana Feely of Mariana Feely Photography was there to capture the moment, which resulted in gorgeous shots of the couple surrounded by loved ones.
"There was a rush of polarized emotions but it was perfect," Pillay said.
"My husband (eek!!!) and I are feeling very blessed as we reflect upon our good luck, fate, and the kindness of strangers," Pillay wrote on Facebook.
ALSO ON HUFFPOST: