Canadians have lost some faith in the economy in the wake of the oil price crash, but a new survey suggests that isn't translating into worries about job security, nor concerns about a housing correction.
That comes even as the share of Canadians who say their finances are improving hit a record low in the latest Bloomberg Nanos Canadian Confidence Index.
The "job security" score came in at 68.74, compared to a long-run average of 66.7 — in other words, Canadians are feeling slightly more secure in their jobs today than they have, on average, since the survey began in 2008.
That may have to do with the fact that the labour markets in some of Canada's largest cities have come to life over the past year. The oil price collapse that sent Alberta into recession has translated into lower energy prices, which put extra money in consumers' pockets, and a lower loonie that has made exports cheaper.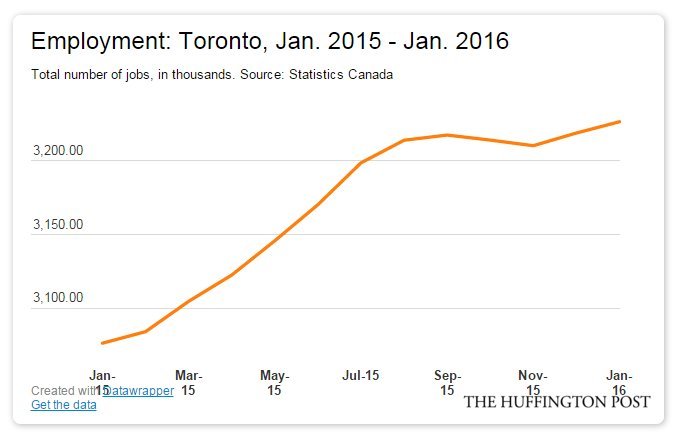 Toronto's employment rolls, for example, jumped a stunning 4.9 per cent over the past year. The number of jobs in Vancouver jobs rose by 4.5 per cent, while the number of jobs in Calgary has dropped by 2.3 per cent.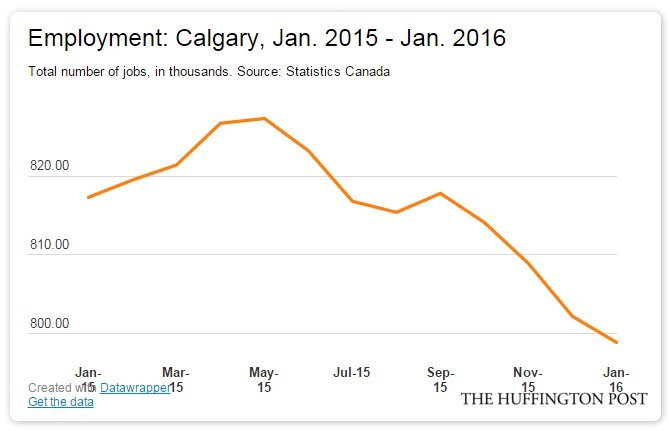 No Worries About A Housing Bubble
Nor are Canadians particularly worried about the housing market, despite (or perhaps because of) massive run-ups in house prices in some cities over the past year.
Some 31.5 per cent said they expect real estate prices to increase, while 44.7 per cent said they expect the market to stay the same, and 21.6 per cent said they expect a decline.
That's only slightly more pessimistic than the historical average for the poll, which has just under 36 per cent saying they expect real estate to increase.
Policymakers end economists have beeen growing increasingly worried about housing affordability and household debt levels. The Bank of Canada warned last year that the country risks a housing correction if oil prices remain below US$35 for five years. Oil fell below US$35 a barrel in early January, and has largely stayed there.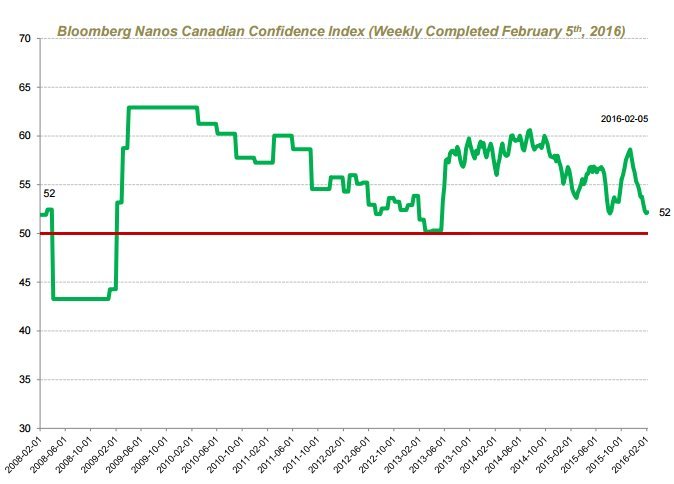 The Bloomberg Nanos measure of consumer confidence has dropped in recent months, but it's been lower, even in non-recessionary times. (Chart: Nanos Research)
Lowest Share Of Canadians Ever Say They're Better Off
But while Canadians' confidence remains relatively strong, the confidence index reached one negative milestone.
"Only 13.5 per cent of Canadians said their personal finances have improved over the past year, compared to 31 per cent who said their finances have worsened," Nanos Research chair Nik Nanos said in the report.
According to Bloomberg, that's a record low for a survey that goes back to 2008, when Canada was experiencing shockwaves from the global financial crisis.
"The oil-price shock continues to reverberate through Canada's labor market, with another uptick in the unemployment rate to 7.2 per cent and a drop in manufacturing employment in the latest reported data," Robert Lawrie of Bloomberg Economics said in the study.
"There are some positive signals, however. Canadian business sentiment appears to be rising, and the Atlanta Fed's 'nowcast' is for U.S. GDP to grow by 2.2 per cent in the first quarter, both essential for a Canadian economic recovery," he added.