There are few things more Canadian than making the best of terrible weather and capping it off with a trip to Tim Hortons.
A snowstorm walloped the Maritimes on Friday, but it didn't stop New Brunswick dog trainer Allyson Mitton and her pooches from getting their Timmies fix.
Mitton, who lives just outside of Sussex, hooked up a sled to her two border collies, Shift and Braya, and off they went into town.
"It was just a slick sidewalk and stormy day, [there] was hardly any traffic, there was nobody walking, so that was our opportunity," Mitton told The Huffington Post Canada in an interview.
She pointed out she's usually quite selective of where she takes the dogs, since they're not very big.
"We run trails that are slick and fast and not deep snow, which means the trail that we did the other day ... was so nice."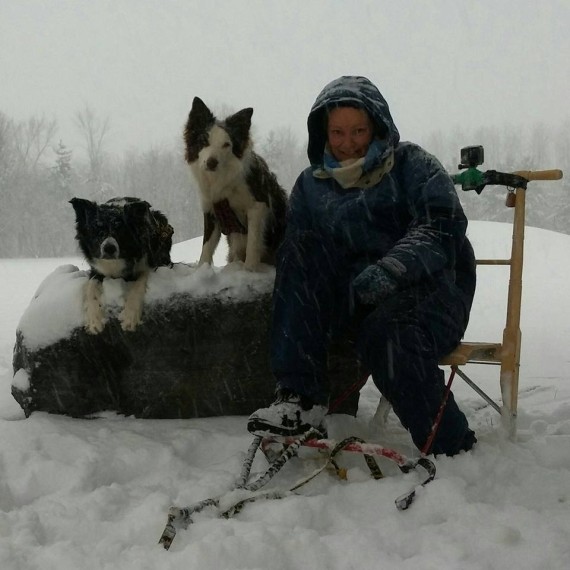 Allyson Mitton says smaller breeds like border collies can also be trained to mush. (Photo: Facebook)
Mitton said people generally think only large breeds like huskies can pull a dogsled, but smaller breeds like collies — which weigh between 12 and 20 kilos — can be taught to mush as well.
Working with smaller dogs, she said she just has to do some of the work herself.
"I run a kicksleigh, and it's a really light, light sled, so I kick to help them, so if the going's tough or if we're uphill, I'm kicking or running."
Mitton said there are actually half a dozen other owners in the area that go out on weekends to run sled trails with their dogs.
An 'amazing sport'
She called mushing an "amazing sport" for the level of trust it builds between dogs and their owners.
"My life is in their hands, so it's an amazing sport for that," she said. "They trust me to tell them where to go, and I trust them to take me there."
And the dogs' reward for the trip to Timmies? Some Timbits, of course.
Watch the full video above.
Also on HuffPost
What Dietitians Would Eat At Tim Hortons