Most Canadians believe that any change to this country's voting system should be put to a national referendum, a new poll suggests.
The numbers from Insights West, released Tuesday, are likely music to the ears of federal Conservatives who have consistently pushed the new Liberal government to commit to a national vote on electoral reform.
Liberals have so far ruled out taking such a step by arguing they already received a clear mandate in October to move away from Canada's first-past-the-post system.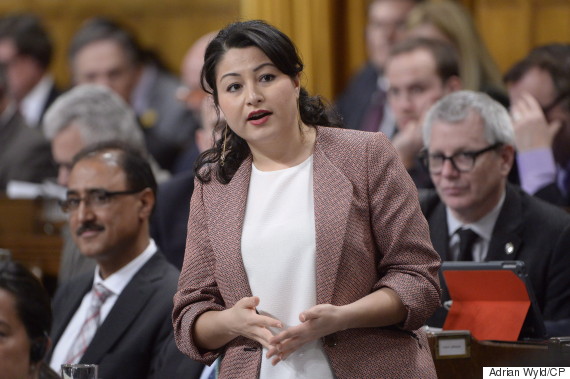 Democratic Institutions Minister Maryam Monsef answers a question in the House of Commons. (Photo: Adrian Wyld/CP)
According to Insights West, however, 65 per cent of Canadians think a referendum is needed to change the current system, while 17 per cent think a vote in the House of Commons suffices.
Supporters of Elizabeth May's Green Party are most likely to support a referendum. The Greens have long advocated shifting to a system of proportional representation that would see a party's share of seats better reflect its popular vote. Eighty-six per cent of Green voters endorse the idea, as do 76 per cent of Tories.
However, 68 per cent of Liberal supporters and 58 per cent of NDP voters also want a referendum.
Insights West also found that three in five Canadians are satisfied by the existing first-past-the-post-system, in which the candidate with the most votes wins. Though some maintain the system creates stable governments, critics have bemoaned the way majority governments are won by parties that do not earn the support of a majority of Canadians.
"The only consensus is on the need to hold a referendum on any proposal that is made."
Justin Trudeau's Liberals, for example, secured a majority government last fall — and all the power that accompanies it — with 39.5 per cent of the popular vote. That's roughly the same popular vote Stephen Harper's Conservatives received in 2011.
Mario Canseco, vice-president of public affairs for Insights West, said that while there are mixed reviews on changing the voting system, Canadians want to have their say directly.
RELATED: Electoral Reform For Dummies
"For all the talk about electoral reform that Canadians have been exposed to over the past few months, the only consensus is on the need to hold a referendum on any proposal that is made," he said in Tuesday's news release.
Tory critic to minister: Did you vote in referendum?
Conservative critic Scott Reid has often mentioned in the House of Commons that three Canadian provinces have already held referendums on electoral reform — British Columbia and Prince Edward Island in 2005, and Ontario in 2007. In each case, voters opted to stick with the status quo.
Citizens in New Zealand and the United Kingdom have also participated in referendums on democratic reform.
Reid has taken to asking Democratic Institutions Minister Maryam Monsef if she thinks Canadians are "too immature" to handle the topic, or unworthy of being "treated like adults."
But last week, he tried an interesting new tactic with Monsef, who represents the Ontario riding of Peterborough.
"In 2007, the government of Ontario held a referendum on whether to change its voting system to mixed-member proportional," Reid said last Monday. "My question for the minister for elections, from Ontario, is simple.
"Did she vote in that referendum, or did she regard the referendum as being such a disservice to Ontarians like her and me that she withheld her vote as a protest against an entire, illegitimate process?"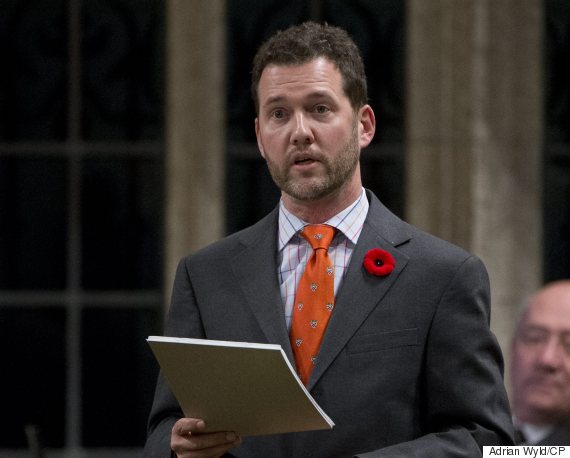 Conservative MP Scott Reid speaks in question period in 2012. (Photo: Adrian Wyld/CP)
House Speaker Geoff Regan interjected to say he wasn't sure that how someone voted in the past is a matter for the current government.
"I do not know how fair that was to the minister, Mr. Speaker," Scott said.
Reid has publicly accused the Liberals of seeking to "rig" the next election by moving to a system that will benefit the party the most — a charge Grits dismiss.
Though Government House Leader Dominic LeBlanc said in December that the government had no plans to pursue a referendum, MP Mark Holland, who serves as Monsef's parliamentary secretary, suggested that position may have softened.
Holland told reporters last week that a referendum is "not something that we are ruling in or out."
NDP proposes change for special committee
The Liberal platform stated that 2015 would be the last election conducted under the first-past-the-post system, and that legislation to enact electoral reform would be tabled within 18 months of forming government.
Last week, New Democrats called on Liberals to cede their majority control over the special Commons committee that will review and recommend a new voting system. NDP democratic institutions critic Nathan Cullen suggested that such a step would help put to rest fears that Liberals would pick a system that benefits them most.
An online petition sponsored by Reid, urging Liberals to give Canadians a direct say on any changes to the electoral system, has been signed more than 11,000 times.
Also on HuffPost
Maryam Monsef, Democratic Institutions Minister