Kim Ducherer/Farm Wife Style
An Alberta woman's handmade jewelry is headed to Hollywood, where it will be included in gift bags for nominees at the Grammy Awards and Academy Awards.
"It's totally unreal," Kim Ducherer, designer and founder of Farm Wife Style, told The Huffington Post Alberta. "Just the fact that I've had so many people reach out to me in the past couple of days — hundreds — that to me is so humbling in itself."
The Leduc County farmer only started her jewelry business a year ago. She makes all of the pieces at home on her family's farm — during her interview, she ducked out briefly to check on some newborn lambs that were being pestered by a magpie.
Ducherer said her jewelry business and farming have one thing in common — simplicity.
"Farming is just such a down-to-earth job. So everything I have is very simple, very classic, easy-going. Nothing is over-the-top," Ducherer said. "It's my style."
On a whim, Ducherer applied to have her pieces included in the award shows, and was blown away when the company that provides the gift bags expressed interest.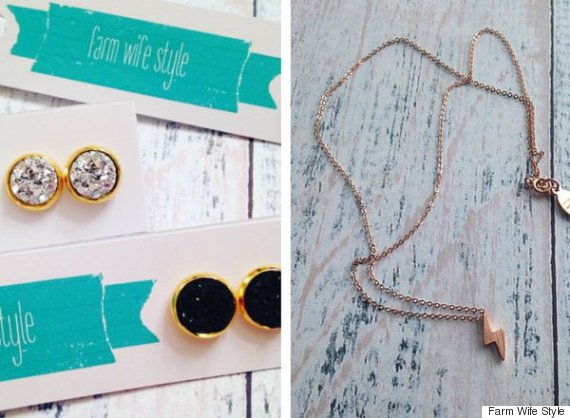 Farm Wife Style's "Be Electric" necklace, right, is headed to the Grammys, and her druzy earrings, left, are headed to the Oscars. (Photo: Farm Wife Style)
"Celebrities are just people too, but of course they get more press time than you or I would. To have a celebrity wearing it would just be that much more exposure."
It took Ducherer four months to create the special pieces. She chose 170 rose-gold lightning bolt pendants for the Grammys, and 70 sets of glittery druzy stud earrings for the Oscars.
The 2016 Grammy Awards take place Feb. 15, and the Academy Awards on Feb. 28.
Like Us On Facebook

Follow Us On Twitter

Also on HuffPost:
The Oscars: Photos Of Hollywood's Biggest Night Through The Years