WHITBY, Ont. — Prime Minister Justin Trudeau dropped into a provincial byelection Tuesday, where, according to the Liberal candidate, the party believes it has a real shot at the seat for the first time in decades.
The Ontario Liberals brought out the big guns in the final days of the Whitby-Oshawa byelection campaign even though the result of the vote won't change the balance of power in the provincial legislature.
Trudeau's participation comes after Premier Kathleen Wynne took a high-profile role in Trudeau's successful federal campaign, though it's unusual for a prime minister to wade into a provincial byelection.
But the party is eager to snatch the long-held Tory riding away from the Progressive Conservatives.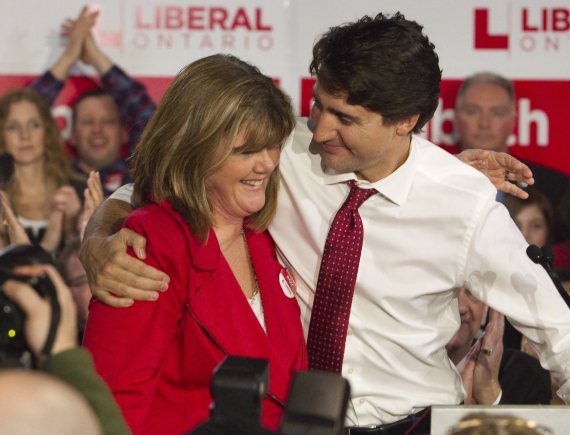 Prime Minister Justin Trudeau attends a campaign rally with Elizabeth Roy, on Feb. 9, 2016. (Photo: Fred Thornhill/CP)
Christine Elliott resigned the seat in the summer, months after losing her party's leadership race. She had held the riding since 2006, when her late husband Jim Flaherty resigned the provincial riding to jump to federal politics.
"This will be the first time in nearly 30 years that we have a real shot to send a Liberal MPP to Queen's Park," Liberal candidate Elizabeth Roy said Tuesday night.
Enter Trudeau, who proclaimed to the Liberals packed into a Whitby restaurant that "after a decade of indifference and even neglect, Ontario now has an ambitious and dedicated partner in Ottawa."
Roy said in an interview earlier in the day that she has been talking to voters about how not only would she be their voice in government — as opposed to voting as an opposition MPP — and about how the Ontario Liberals now have a partner in Ottawa.
Trudeau warns against "fear and division"
Trudeau touted his familiar "sunny ways" refrain Tuesday, saying it "trumped negativity and division" in the federal election.
"You'd think that people would have learned from that," he said.
"You'd think the people who were pushing fear and division might have said after Kathleen's win, after our win in October that maybe we shouldn't engage in personal attacks. Maybe we shouldn't be scaring people. Maybe we shouldn't be looking for fault lines to exploit and ways to divide each other."
The Liberals said later this byelection has not been marred by personal attacks.
Whitby-Oshawa voters go to the polls Thursday.
The Progressive Conservatives and NDP called Trudeau's appearance in Whitby-Oshawa a "distraction."
Polls have suggested the race is between Roy and Tory candidate Lorne Coe — both regional councillors.
The New Democrats hope MPP Jennifer French's win in the neighbouring riding of Oshawa in the 2014 general election is a positive sign for them, but candidate Niki Lundquist has been polling significantly below the Liberals and PCs.
Also on HuffPost
Trudeau Attends World Economic Forum