Republican presidential candidate Donald Trump raised eyebrows with his comments on torture during a weekend debate, and now his son is doing the same.
Fox News host Greta Van Susteren asked Eric Trump Monday night what his father meant when he vowed to implement torture methods "worse than waterboarding."
The younger Trump began his answer by referencing attacks in the U.S. and France.
"Well, you see these terrorists that are flying planes into buildings, you see our cities getting shot up in California, you see Paris getting shot up, and then somebody complains when a terrorist gets waterboarded, which quite frankly, is no different than what happens on college campuses and frat houses every day," he said.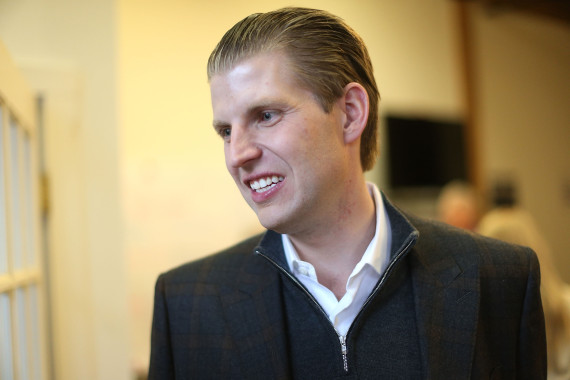 Eric Trump has been stumping for his father in New Hampshire. (Photo: Joe Raedle/Getty Images)
His father would "keep the country safe, there's no question about it," he said. "I mean, he would be very, very, very tough, that's who the man is, he's a very tough guy.
Eric, the third child of Donald and Ivana Trump, continued: "He's sick of seeing what's happening to this country, whether it be on trade, whether it be $19 trillion worth of national debt, whether it be with the terrorists coming in and trying to infiltrate our country."
At Saturday's Republican presidential debate, all three Republican candidates voiced their support for waterboarding, but Trump vowed to bring in torture techniques that were "a hell of a lot worse."
Also on HuffPost
Donald Trump Is Basically Regina George