UPDATE - Feb. 9:YYC Helping Homeless will no longer have to pay fees for using the land, or for parking, thanks to the Calgary Municipal Land Corporation. Danielle Stewart told The Huffington Post that YYCHH was happy with the "fantastic outcome," and thanks Calgary Coun. Joe Magliocca who helped connect the group with the correct officials.
Every Saturday night, a small patch of grass near the Calgary Drop-In Centre lights up with people sharing laughs, hugs and music over warm bowls of food. Now, the volunteer organization that hosts the event for the city's homeless is facing steep fees to keep it running.
The informal potlucks are organized by a volunteer group that calls themselves YYC Helping Homeless (YYCHH). The group, largely made up of families, grew from just a few people handing out sandwiches and mittens in September, to a Facebook group with more than 1,800 members that feeds between 50 and 100 people in need every Saturday.
In advance of each event, the group's organizers drive around to pick up donations from members that can't make it. Those that can attend post on Facebook what they plan to bring. Usually, about 12 to 20 volunteers show up every weekend.
"The main thing we bring is a lot of love. We know people by name, we know their stories, we give them hugs," Danielle Stewart, the donation coordinator for YYCHH, told The Huffington Post. "There are a lot of people who sleep on the streets and this is the first meal they've had all day."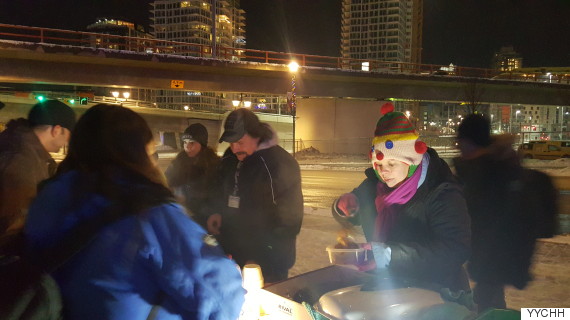 A volunteer serves food at a YYCHH potluck. (Photo: YYCHH)
On Saturday, four bylaw officers paid the group a visit, and "politely" told them that the group would need proper permits, because the event takes place on city property.
It will cost the group $26.50 to apply for a "recurring event" permit, and an additional $50.50 for each event — a pretty large amount for a group that pays for all of their expenses (food, gas, toiletries, warm clothes) out of pocket. The bylaw officers suggested the group might also need a permit from Alberta Health Services for serving food.
"There are policies in place — and I understand that they serve a purpose — but this isn't really about policies, it's about people," said Stewart.
"We're certainly hoping the city will look at the fairness of asking people to pay to help our vulnerable people."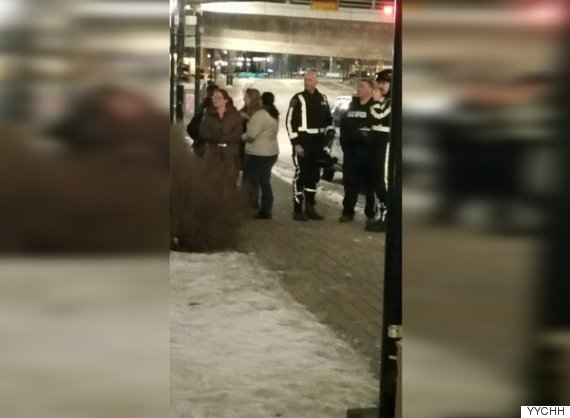 Bylaw officers respond to a YYC Helping Homeless event on Saturday. (Photo: YYCHH)
Stewart said the bylaw officers told her, "If you don't call us back, we're going to call you back." When she spoke to a communications representative with the city, Stewart says they told her they want to have a conversation.
And YYCHH has been calling, but the city has yet to respond.
Stewart said that she's called 311 three times so far, but as of Thursday afternoon, no one has returned her calls.
"I was joking with someone last night and I said, 'We can't just walk into city hall and yell 'Hey, have a conversation with me about homeless people!''"
YYCHH said they simply want to open a dialogue.
"We don't want to fight with anybody, we just want to keep doing our work. And we're just surprised that the city would have us pay to do this."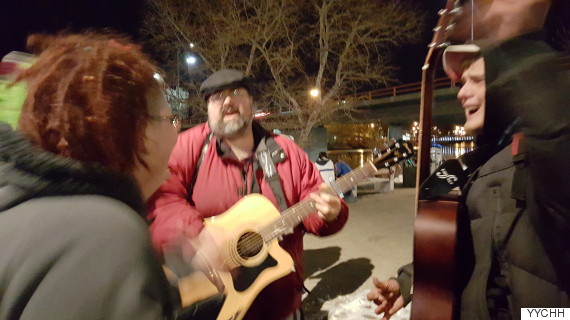 The YYC Helping Homeless group is hoping the city will work with them to find a solution for their events. (Photo: YYCHH)
The patch of land where the group meets is on Riverfront Dr., along the east side of the Langevin Bridge. It's one of the quietest areas in Calgary's downtown and rarely sees pedestrians in the evening, other than clients from the nearby Drop-In Centre. Usually, the only noise that can be heard is the faint sound of the blues from a bar a few blocks away, and cars whizzing over a nearby overpass.
If it weren't for YYCHH, Stewart said many people in the area would be finding their food in the garbage. She acknowledged that the Drop-In Centre is a great resource, but noted that it doesn't work for everyone and that a lot of Calgarians end up on the street.
"We're making them the same food we would make for our families."
"This isn't really about policies, it's about people."
Jennifer de Vries, a spokeswoman for the City of Calgary, said it might take a few days for the group's calls to be returned, as 311 is a busy resource.
"This is great work they're doing, and we want to make sure that we're supporting them as much as we can with it," De Vries said.
De Vries wouldn't comment on whether or not the city would be open to dropping fees for the group, but said that's one of the reasons they're hoping to talk with them.
In the meantime, YYCHH has launched a crowdfunding campaign through YouCaring to help them keep their Saturday potlucks going. The group says 100 per cent of the proceeds will go directly to helping those in need.
Like Us On Facebook

Follow Us On Twitter

Also on HuffPost: