TORONTO — The family of a man shot dead at a crowded Toronto nightclub during a party hosted by Canadian rapper Drake has filed a $2.5-million lawsuit against the venue. A lawyer representing the family of Duvel Hibbert says the suit alleges the Muzik nightclub failed to take reasonable steps to ensure the safety of patrons.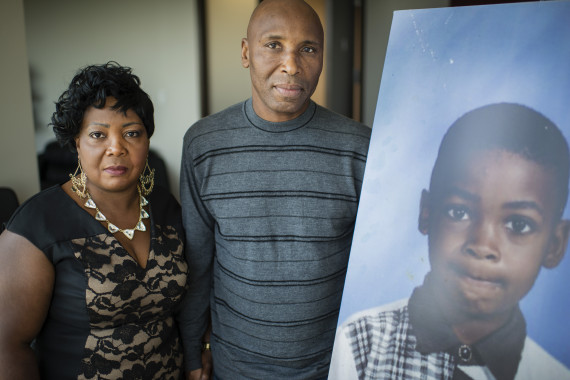 The parents of Duvel Hibbert, Auline Lewis and Delroy Hibbert, grieve next to an image of their son at 6 years old inside the law office of Michael Smitiuch on Aug. 13, 2015. The family hired a personal injury lawyer and are speaking out about the level of security at the nightclub the day their son died. (Photo: Brian B. Bettencourt/Toronto Star via Getty Images)
Michael Smitiuch says the club did not provide adequate security staff or police presence in and out of the venue, nor did it take appropriate steps to keep guns out. Hibbert, 23, of Brampton, Ont., and 26-year-old Ariela Navarro-Fenoy, from Toronto, died in the early hours of Aug. 4, 2015, after what police called a "brazen" shooting. Three other people were injured during the incident which began inside the nightclub, where thousands were partying, and spilled into the streets north of the venue. It remains unclear whether Drake was in the club when the shooting began around 3 a.m. The Canadian rapper broke his silence more than a week after the shooting, offering condolences to Hibbert's and Navarro-Fenoy's families. Smitiuch says Hibbert's relatives are "still struggling to understand how this could have happened." "The family is hoping that Duvel's death is the last at Muzik nightclub," he said.
Also on HuffPost
Shocking Facts About Guns In New York