Jim Karygiannis appears to be walking back controversial comments he made about Beyonce's halftime performance at Super Bowl 50 on Sunday.
In an interview with the Toronto Sun Monday, the Toronto city councillor questioned whether the singer should be investigated by federal Immigration Minister John McCallum before she comes to Toronto to perform in May.
"If someone wore bullets and supported (a radical group) here, they would not be welcomed in the United States — that's for sure," he said.
Beyonce's performance drew attention for an apparent homage to the Black Panther Party, known for wearing black berets and jackets similar to the ones worn by the singer and her dancers.
Karygiannis interpreted it as a tribute to the New Black Panther Party, whose leaders have encouraged violence against police officers.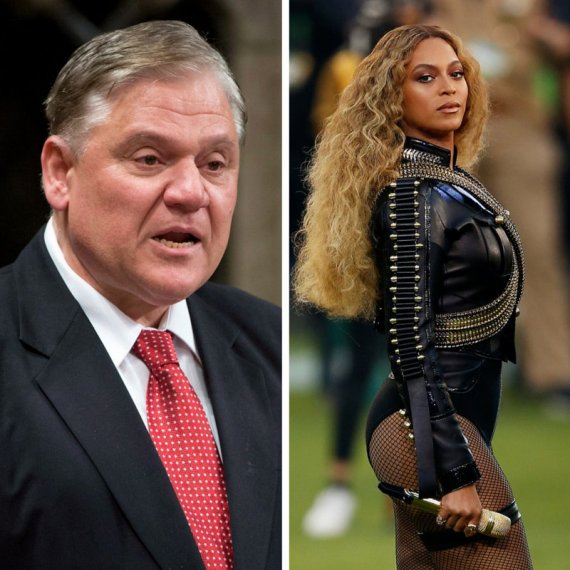 Jim Karygiannis said he wasn't trying to get the Beyonce banned from Toronto. (Photo: CP/Getty Images)
But Karygiannis told CP24 Tuesday if people have concerns about it, he's "not the one to address them."
"The minister of citizenship and immigration should address them," he said.
Karygiannis, who served as a Liberal MP for more than 25 years, told Global News he was just trying to express his support for police.
"I feel uncomfortable when we're dumping on them," he said.
Karygiannis had said Monday the performance came at a time when "we should not be promoting gun culture or anti-police sentiments."
Fellow councillor Giorgio Mammoliti told the Sun that Bey's "distasteful" performance "was a subtle message that was not subtle but in fact loud."
Twitter was not happy.
@jimkarygiannis the audacity of white people. Don't worry about @Beyoncé coming here. Worry about the black people you offended living here.

— rookz ♖ (@rookzie) February 9, 2016
.@jimkarygiannis YOU ARE EMBARRASSING. please take your delusions elsewhere. take mammo with you, while you're at it https://t.co/JC4qaXhV1D

— RAINA (@RahRahRaina) February 9, 2016
Norm Kelly also weighed in.
I think it's BS, @AndrayDomise. Let Bey be.

— Norm Kelly (@norm) February 9, 2016
Former New York City mayor Rudy Giuliani said Beyonce's performance "was ridiculous anyway," and that she used it "as a platform to attack police officers who are the people who protect her."
Also on HuffPost
Super Bowl 50 Halftime Show: Beyonce, Bruno Mars, Coldplay