A possible candidate for federal Conservative leader is breaking from the party's position that Canada needs to directly take the fight to the so-called Islamic State.
Business mogul Kevin O'Leary, who is mulling a run to replace Stephen Harper as the permanent Tory leader, told News Talk Radio 580 CFRA Tuesday that he doesn't like the Liberal government's ISIS strategy.
But while top Tories have said the plan to end airstrikes and ramp up training of Kurdish forces is tantamount to stepping back against the terrorist threat, O'Leary said it undermines a unique Canadian "asset value" — our reputation as peacekeepers.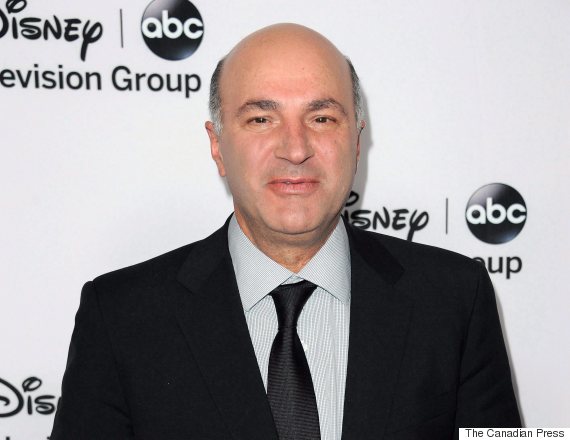 Kevin O'Leary attends the Disney ABC Winter TCA Tour in Pasadena, Calif. (Photo: CP)
"I don't want to bomb or get involved in any campaigns as a Canadian other than keeping the peace," he told host Evan Solomon. "We are the only country, other than the Finns, that can do that. And we're wasting our equity."
Solomon pressed on with a question that Prime Minister Justin Trudeau has faced in the past — and will likely face again in parliamentary debates next week.
"If you can't use your military to fight ISIS, who can you use it for?" Solomon asked. "What's wrong with that?"
O'Leary said that he believed "the last nationality ISIS wants to put a bullet through is a Canadian."
"I don't want to bomb or get involved in any campaigns as a Canadian other than keeping the peace."
The businessman and reality TV star later said his views were informed by his experiences living in Cyprus as a boy in the 1960s, when he said Canadian peacekeepers commanded the respect of Greeks and Turks.
Canada is the only country, he said, with the "moral authority" to help forge peace in the Middle East.
"The role I want for Canada is to be that country that can go anywhere in the world and after everyone is finished killing each other, keep the peace," he said.
Listen to the full interview:
O'Leary's remarks stand in sharp contrast to Harper, who said that the international jihadist movement, including ISIS, had "declared war on Canada."
They are also out of step with interim Tory Leader Rona Ambrose, who has pushed Trudeau to keep Canada's CF-18 jets in the fight.
Ambrose said it was "shameful" that Canada would end the bombing mission as other allies step up their efforts against "the most heinous terrorist organization" in a generation.
"Mr. Trudeau doesn't think it's our fight," she said at a press conference Monday. "If he doesn't think that we should use our military against this group, I don't know when he thinks we would ever use our military."
But, perhaps more significantly, O'Leary's views clash with those of other rumoured candidates for the top Tory job.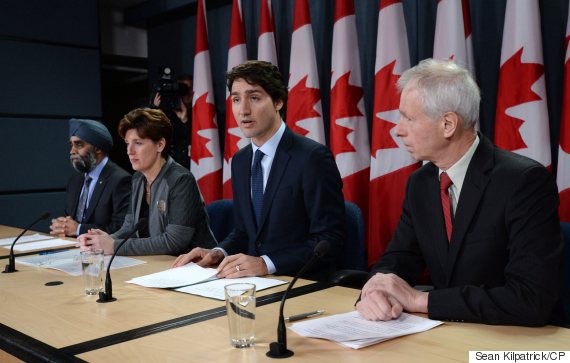 Defence Minister Harjit Sajjan, far left, International Development Minister Marie-Claude Bibeau, Prime Minister Justin Trudeau and Foreign Affairs Minister Stephane Dion announce Canada's anti-ISIS plan at an Ottawa news conference on Feb. 8. (Photo: Sean Kilpatrick/CP)
Former cabinet minister Peter MacKay, who polls suggest is a front-runner, has called ISIS a "clear and present danger" and has said Canada's jets should continue bombing.
"To do nothing is no longer an option and incremental efforts serve no further purpose," MacKay wrote in the National Post in November. "We must fight back against ISIL and all those who share and enable its depraved ends."
Other possible candidates, including veteran MP Jason Kenney and foreign affairs critic Tony Clement, have been unequivocal that the jets need to stay in the fight.
While some doubt that O'Leary is a credible contender, in large part because of his inability to speak French fluently, years spent living in Boston and lack of roots in the party, at least one poll suggests he should be taken seriously.
Last month, numbers from Mainstreet Research showed O'Leary was statistically tied with MacKay in terms of early support.
O'Leary is also one of six potential leadership hopefuls who will deliver a speech to conservative thinkers at the Manning Networking Conference later this month.
The 'establishment' is now irrelevant
Perhaps hinting at the message he could champion during a bid, O'Leary said the rise of Donald Trump south of the border shows that the preferences of the so-called political "establishment" mean little to voters.
"Who gives a damn about the history of any party? It doesn't solve problems, it doesn't create jobs," O'Leary told Solomon. "It's just old-school politics, which is becoming less and less relevant."
Though some have called him "Canada's Trump," in large part because of his wealth, celebrity, and brash talk, O'Leary has bristled at the label.
"I am not Donald Trump," he told The Canadian Press last month. "I'm a Lebanese-Irish, I don't build walls (and) I am very proud of the society we're building in Canada — I think it is the envy of the planet."
Conservatives will pick a new leader in May 2017.
With files from The Canadian Press
Also on HuffPost
Canada's ISIS Mission: Then & Now