The Ontario PCs are set to hang on to win the Whitby-Oshawa byelection, a new poll by Mainstreet/Postmedia suggests.
The poll shows PC Lorne Coe leading with 40 per cent of the vote compared to 25 per cent for the Liberals, 10 per cent for the NDP and six per cent for the Green Party of Ontario. The PCs also hold a 17 point lead over the Liberals when it comes to undecided voters leaning toward a certain party, the poll suggests.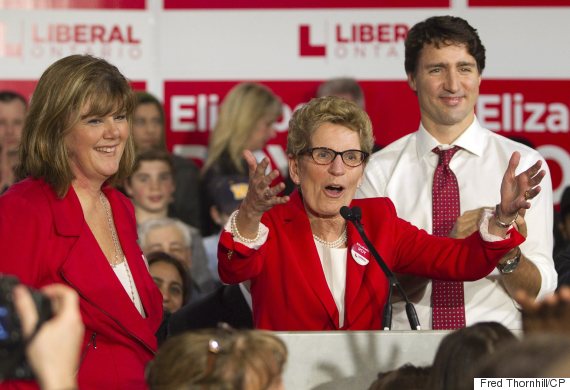 Prime Minister Justin Trudeau attends a campaign rally with Ontario Premier Kathleen Wynne for Elizabeth Roy, Ontario Liberal candidate for Whitby-Oshawa, in Whitby on Tuesday February 9, 2016. (Photo: Fred Thornhill/CP)
Mainstreet's Quito Maggi said he expects the Liberals to outperform their poll numbers on Thursday, something that might be bolstered by a Tuesday night visit from the prime minister and premier, but the PCs appear poised to keep control of the riding.
"We've seen a steep drop in the number of undecided voters and PC candidate Lorne Coe now has a comfortable lead," Maggi said in a news release about the poll.
Maggi added, however, that "byelections are notoriously hard to predict."
Mainstreet/Postmedia surveyed 584 Whitby-Oshawa residents on Feb. 8 for its poll, which was carried out using Interactive Voice Response (IVR) technology on a mix of land lines and cell phones. Results were weighted by geography, age and gender based on the 2011 Canadian Census, the polling company said.
The Whitby-Oshawa byelection was triggered after Progressive Conservative Christine Elliott resigned the seat, months after losing her party's leadership race.
Elliott had held the riding since 2006 and before that her late husband, Jim Flaherty, was the area's MPP for 10 years.
Lorne Coe, the PC candidate, told CBC News he plans to follow in their footsteps.
"I'm certainly going to continue the legacy of public service of Christine Elliott and her late husband, Jim Flaherty," he said.
Liberal  Elizabeth Roy, who like Coe was a regional councillor, told a boisterous crowd on Tuesday night that this was the Liberals' first real chance in 30 years to win the seat.
"We're going to paint this town red," she told her supporters.
Niki Lundquist is the NDP candidate while Stacey Leadbetter represents the Greens. 
Also on HuffPost
Least, Most Popular Premiers (Dec. 2015)