Canada's Defence Minister Harjit Sajjan met for the first time today with U.S. Secretary of Defence Ash Carter who told him the Americans will "intensify" their fight against the Islamic State in Iraq and Syria.
Sajjan's meeting with Carter comes two days after Canada announced it will pull its six fighter jets from the bombing campaign against ISIS by Feb.22, while increasing the number of special forces deployed on the ground to help train Iraqi forces.
Sajjan is in Brussels for a two-day meeting of NATO defence ministers.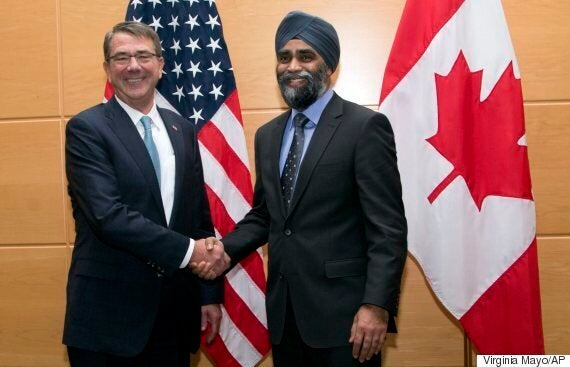 U.S. Secretary of Defense Ash Carter shakes hands with Defence Minister Harjit Sajjan prior to a bilateral meeting at NATO headquarters in Brussels on Wednesday. (Photo: Virginia Mayo/AP)
"The two discussed the counter-ISIL campaign, and the secretary reinforced the United States' commitment to intensify the fight against ISIL," Peter Cook, a spokesman for the Pentagon, said in a written statement following the meeting on Wednesday, using an alternate acronym for the extremist group.
"He thanked the minister for Canada's announcement to triple their training mission in northern Iraq, double their intelligence effort, as well as expand their humanitarian and development contributions."
"The leaders also discussed how Canada will continue to contribute to the air campaign by conducting refueling and aerial surveillance operations," Cook said.
Canada also announced additional humanitarian assistance and new diplomatic engagement to address the ongoing crisis in Iraq and Syria.
A statement from Sajjan's office said the minister went over Canada's new commitments and told Carter that Canada is prepared to work with the U.S. in a number of areas, "including through their active participation in NORAD and NATO."
"Minister Sajjan reaffirmed Canada's commitment as a key global coalition partner to address the ongoing crises in Iraq and Syria."
Sajjan met with NATO Secretary General Jens Stoltenberg today where the two discussed security along NATO borders and priorities ahead of the upcoming NATO summit in Warsaw that will see leaders from 65 countries come together on July 8 and 9.
Stoltenberg said ahead of this week's meeting that the defence ministers would take further steps to reinforce the alliance's ability to defend itself.
"Effective deterrence and defence requires both forward presence of allied forces, and our ability to reinforce them quickly," said Stoltenberg on Tuesday.
While NATO is not officially involved in the fight against ISIS, it does support the members countries that make up the global coalition.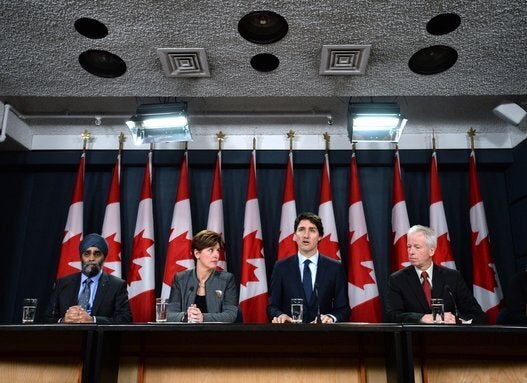 Canada's ISIS Mission: Then & Now